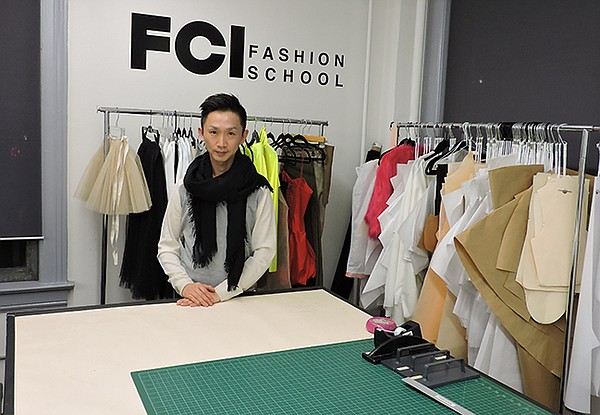 'PROJECT RUNWAY' WINNER
'Project Runway' Winner is L.A.–based Fashion Instructor at FCI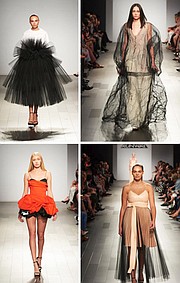 The 16th season of the fashion reality show "Project Runway" concluded with the top prize going to Kentaro Kameyama, the first Japanese winner of the long-running Lifetime television show.
"I believe there was one other Japanese contestant in 'Project Runway' history, but I believe I am the first Japanese designer in history to win. It's a big deal for me," Kameyama said.
Kameyama's win is also a big deal for his fashion alma mater and current employer, FCI Fashion School, the fast-track fashion school in downtown Los Angeles that offers a three-month, intensive fashion design program.
"We right away saw his immense talent," said Joe Farrell, FCI's fashion merchandising chair.
Trained as a classical pianist, Kameyama said his musical training influences his fashion designs.
"Through my classical training, I am able to analyze what's going on. That's how I make patterns," he said.
Before turning to fashion design, Kameyama studied piano performance at the University of South Carolina, the University of Redlands and the University of Southern California. His musical performance experience kept him cool under the pressure of competition on "Project Runway."
"Because I did so many piano competitions, I know what competition is like since I was 10," he said.
The designer stayed above the fray that often marks a contentious reality show. When asked who he viewed as his biggest competitor on the show, Kameyama would answer "myself."
"I didn't want to say anything bad about other people," he said. "I have to say, different people, different personalities, but I love being with those people who have that same dream that I have. It's a competition, but it's a beautiful situation."
Still, there was plenty of drama going into the show's finale. Kameyama was up against San Francisco–based Brandon Kee, Salt Lake City–based Ayana Ife and San Juan, Puerto Rico–based Margarita Alvarez.
Ife was the reality show's first Muslim designer. Her finale collection was both fashionable and modest. Alvarez presented her final collection as Hurricane Maria was on track to hit the island. (Mentor Tim Gunn assured her on air that her family was safe.)
Kameyama's win was a surprise to many, including the Japanese-born designer. But within 24 hours, the designer's Instagram following doubled to more than 20,000.
The morning after his win was announced, Kameyama was fielding interviews from several news outlets.
"Everyone said, 'So what's next?' That's what I have to think about. I feel like I just came from Japan. I don't speak English well, and I don't have my family here. But I am excited about what's going to happen. I have to be smart about it," Kameyama said.
He also had his first brush with the fame that comes from winning a reality-show competition.
"I was at the airport in New York and many people asked for my autograph and pictures. They were saying, 'Hey, Kentaro.' It's kind of a weird feeling," he said.
For now, Kameyama will continue to teach at FCI, where he was recently promoted to fashion design chair.
In October, Kameyama helped organize FCI's runway show, which featured Kameyama—along with fellow "Project Runway" designers Alvarez, Batani-Khalfani and ChaCha—on the runway alongside FCI students.
Kameyama and Farrell plan to continue to host fashion shows that feature the work of students alongside guest designers.
"I appreciate that I've got this opportunity. I'm working here and I get to do my fashion show, which was a huge deal for me when I started in fashion. It's a huge opportunity for a new designer," Kameyama said. "I want to share what I have."
Kameyama and Farrell would like to add their runway show to the Los Angeles Fashion Week lineup.
"I want to make this into a very interesting Los Angeles Fashion Week platform," Kameyama said. "There's no doubt that everybody loves California fashion. I am proud to be considered a California designer. This is a good chance for California to do something big and beautiful. To do that, we need to help each other."