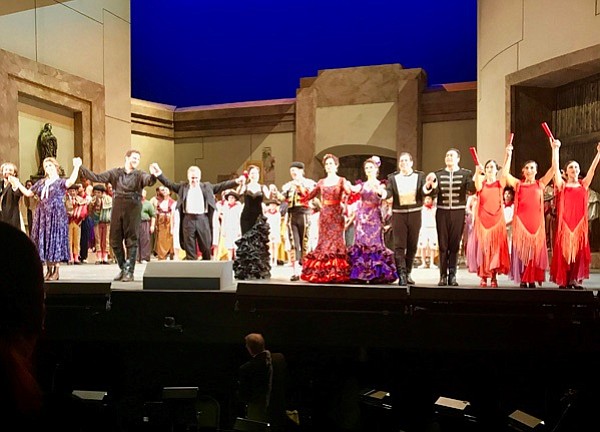 STREET STYLE
The Opera "Carmen" brings out L.A.'s dressed-up crowd
Sept. 28 was the closing night performance of the world-famous opera "Carmen" at the Dorothy Chandler Pavilion. The opera starred the amazing Ana Maria Martinez of Puerto Rico as opera's most seductive temptress. With the non-stop, infectious choreography, exciting orchestrations, beautiful costumes complimenting the dramatic backdrops and nail-biting drama, it claims to be one of the most exciting operas for the 2017-18 LA Opera season.
With its inspirational, beautiful costumes and seductive Southern Spain history, the opera influenced many of the attendees to bring out their own personal side of Carmen—a.k.a. Carmenita—in their fashion choices. Some chose to wear sexy, gypsy-inspired styles reminiscence of Carmen's many costumes changes. Others brought their own take of glamour with ankle-length dresses of different eras and cultures. For men and women, 1950s- and early '60s-chic seemed very popular. There were old Hollywood-style gowns with thigh-high slits for women, while men opted for elegant tuxedos and suits. There was no shortage of the little black dress, seen in many shapes and lengths. Some of the more artistic women went for conversational choices of separates and pattern playing.
The night proved that L.A. loves to get dressed up for a special occasion.