TRADE SHOWS
OC Mix's Easy Format Draws Regional Buyers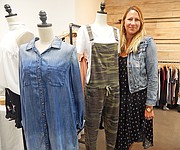 In the trade-show world, small can be beautiful.
That's the theory behind the OC.Mix Show, a compact trade event organized four times a year by Z Supply at its company headquarters in Irvine, Calif.
At the latest show, held Sept. 26–27, eight booths carrying 20 contemporary clothing and accessories brands were set up in Z Supply's 1,500-square-foot corporate showroom, which looked out onto a picnic table–populated patio and lots of greenery.
The two-day event had a low-key vibe with lots of refreshments and food and a casual feel. Buyers were treated to a complimentary breakfast, lunch and a wine-and-cheese happy hour on both days.
The theory behind the event is that local boutique owners in Orange County and surrounding areas would rather hop in their car and head to Irvine than drive the more than 40-mile trek in freeway traffic to visit the various showrooms in Los Angeles.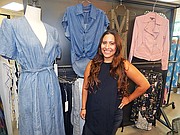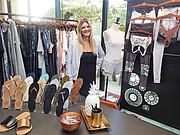 That was true for Susan Stansbury, owner of the recently opened Wildfire Mercantile, an upscale clothing store in San Juan Capistrano that carries higher-end Western-style apparel and boho looks. "I come here because it is closer," she said. "It is smaller and an easy in and out."
Normally she attends larger apparel trade shows that include MAGIC in Las Vegas, the Dallas Apparel & Accessories Market and Denver WESA (Western & English Sales Association).
Other California stores at the show included the Tanya B Boutique from Yorba Linda, The Fort & The Clubhouse from Laguna Niguel, The Denim Bar from Los Alamitos, Johnny Jeans from Tustin, Aniche Boutique from San Dimas and Blue Windows from Long Beach.
Sandy Ramirez—sales rep for Level 99, a hip twill-and-denim-based brand started by textile manufacturer Twin Dragon Marketing in Gardena, Calif.—has been coming to the show almost since it was started last year. Her goal was to branch out and find new customers. "You can't see everyone on the road and at the shows," she said.
New accounts, she said, are always established at this show. She had seen several retailers the first day, although attendance slowed down the second day.
Mie Manniche, a sales rep for Malvados sandals out of Canada and the Colombian activewear company Maaji, didn't have to drive far to set up her booth. She lives in the adjacent city of Costa Mesa. "This show attracts people who are open to new vendors," she said. "I also have a good amount of current accounts who come to see me."
She had seen boutiques from San Diego as well as Orange County and the Riverside/San Bernardino area.
One attractive feature of her lines is reasonable wholesale prices. The super-light and stylish Malvados sandals, made of ethylene vinyl acetate, were wholesaling for $10.50 to $20 with a new leather luxe line going for $20. And the Colombian activewear was selling at wholesale prices that ranged from $25 to $45.
Kendra Coleman, senior account executive for Z Supply—whose labels include Black Swan, Others Follow, White Crow and Rag Poets—said the show was good for crossover business from other vendors whose lines might complement each other.
Coleman had seen 12 retailers the first day. "We are always getting new people and new accounts," she said.
Lanae Mackey, an account executive and showroom manager for Chan Luu, an accessories and apparel label created by Los Angeles designer Chan Luu, probably had the best booth in the house. She was set up in the Z Supply lobby with a tufted gray velvet couch to sit on and a coffee table available for her jewelry displays. A rolling rack on the side showed the Spring '18 Chan Luu clothing collection.
This was Mackey's fourth time at the show. She said each time is different. She had seen stores from Manhattan Beach to San Diego that were looking for good gift items for the holidays. "I have a pretty big business in the OC, so this makes it easy for them to come and see me," she said.