As of Friday, October 13, 2017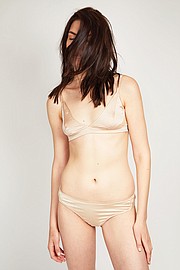 When she was going to fashion school in London, Stacy Anderson thought most lingerie had a hollow sex appeal. She wanted something different: underwear that felt special, that looked good but did not embrace a body shape that she thought was unattainable for most women.
Fast-forward to November 2016, when Anderson started Kent Woman in Los Angeles. The lingerie line offers 11 styles for a style ideal that she wanted to embrace when she was a fashion student in London.
"There is something special about the pieces that you put closest to your skin. You should feel amazing in them. It is a style choice," she said. "For us, under-apparel is more about strength and self love rather than sex. Just as over-apparel is an expression of who you are and what you want to represent to the world, your under-apparel can be just as expressive."
Kent Woman's camisoles can be worn as a top, Anderson said. But it is an underwear line, and it has a point-of-view. Bras are designed without underwire. "Everything is meant to complement rather than compete with a woman's form," she said. "Rather than push up and squeeze, we let women's natural bodies be embraced by natural designs." Looks include high-waisted briefs and soft bras as well as thongs and tap shorts. Body suits will be introduced in Summer 2018.
Anderson contends Kent's high-waisted panties have sex appeal. "There is coverage. It is not slinky. It is sensual," she said.
Items are made out of fabrics such as organic silk. Anderson works with a factory in East LA to make the line. It was launched exclusively on downtown Los Angeles–headquartered e-tailer The Dreslyn. For Spring 2018, Kent will be available for wholesale. It will come in colors including ivory, black, champagne, a red claret and a blue-gray color called slate.
A percentage of proceeds from the brand's sales goes to nonprofits such as Zana Africa, which offers menstrual pads and health education to girls in Kenya. Another nonprofit, Bridge International Academy, funds school tuition for girls.
Wholesale price points range from $32 for high-waisted briefs to $56 for soft bras. For more information, contact sales@kentwoman.com.