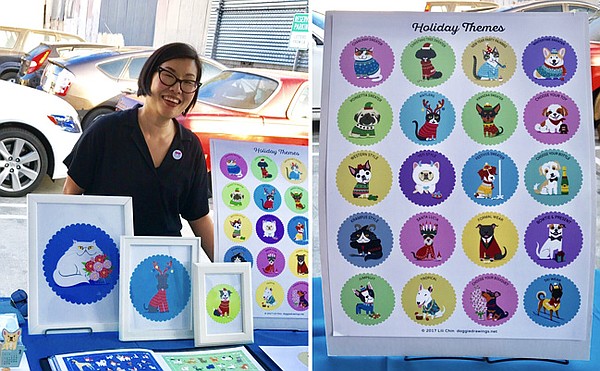 Hosting a Happy Pup-Up in Eagle Rock
Leanna Lin's Wonderland in Los Angeles' Eagle Rock neighborhood hosted a cute, playful pet portrait "Happy Pup-Up" Fall event and fundraiser on Oct. 14 at the store. The event raised money for Home Dog LA, a nonprofit organization that helps keep pets with the families that love them.
On hand for the event was Lili Chin, of Doggie Drawings, whose custom animated portraits and gift card sets are a perfect gift for the dog lovers on your holiday gift list.. Also on hand was Paper Wilderness, which offers painted portraits and greeting cards to add creativity to your art collections. There was also a professional photo session by Kane 9 Photo, complete with a dress-up photo booth set up for doggie holiday portraits. All vendors were taking orders in time for holiday season deliveries.
The event coincides with the current in-store exhibit titled "California Love 2: A Love letter to Southern California." The exhibition is curated by Supahcute and runs until Oct. 29.
RELATED STORIES