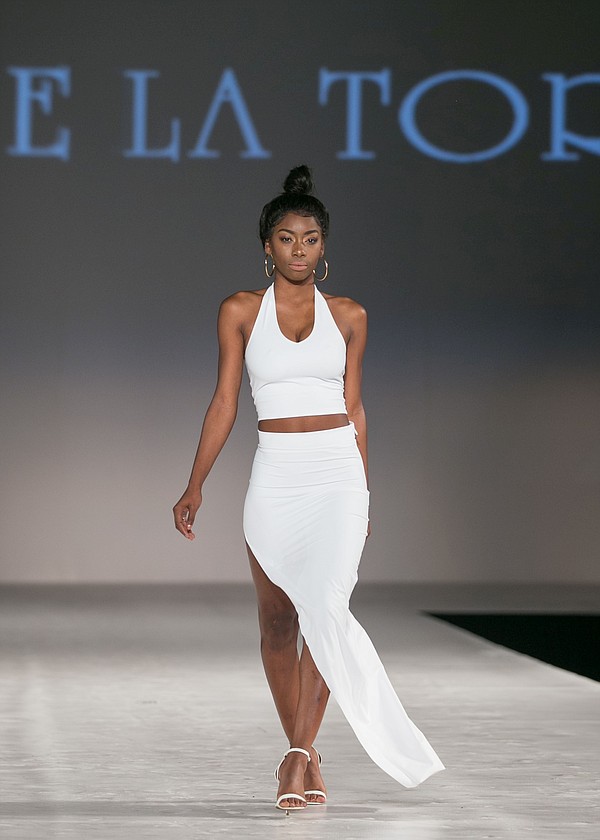 Mario De La Torre's City of Angels at SFW
For the 9th appearance of Mario De La Torre at Style Fashion Week, the Los Angeles-headquartered brand did a 180 turn.
For the previous season, the theme of the brand's runway show was Into the Darkness. On Oct. 13, designer Mario De La Torre showed his self-named brand's City of Angels collection, which was inspired by the birth of his daughter Vivienne Luz Skywalker De La Torre, and the city of Los Angeles. The runway show took place at Style Fashion Week at Pacific Design Center in West Hollywood, Calif.
The runway show's looks were cast in an angelic white color. Materials used in the line were meant to be light; think meshes, double knit fabrics and with a return from the previous De La Torre collections, vinyls. Silhouettes were form fitting rompers, cigarette pants, gowns, crop tops , pencil skirts, bandeau tops and body suits.
De La Torre's angels came in all shapes and sizes. Models on the runway ranged from plus sizes to petites. Vivienne made an appearance on the runway at the end of the show with Mario and her mom, Evette Smith, the brand's art director and muse.
De La Torre plans on wholesaling the brand soon, currently, it will be sold on the designer's Instagram page, _ mario _ delatorre.