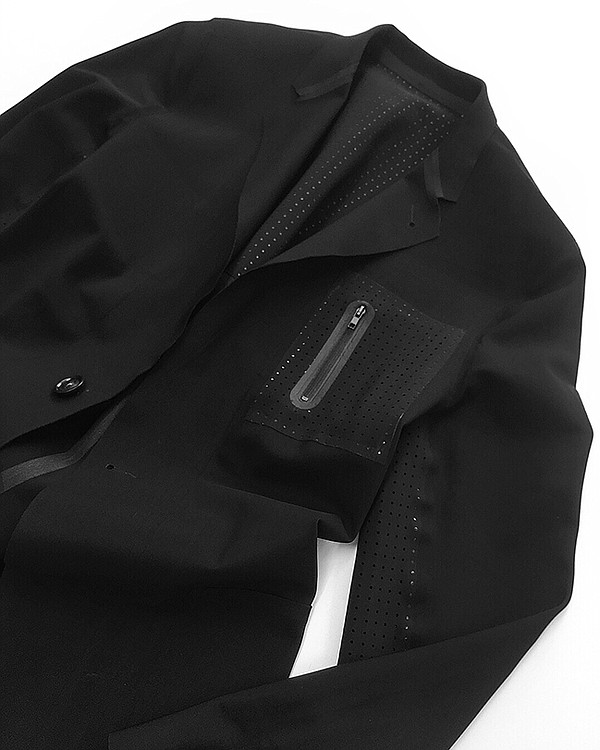 JOMO HARAJUKU
Jomo Harajuku: Tailoring Suits for Millennials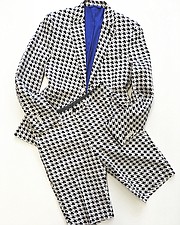 The basic ingredients for the men's suit have stayed the same since the late 19th century through the mid-1960s and on to the power suits of the Reagan era and present day.
But designer Jay Ko had his doubts on whether this staple in every man's wardrobe would make it through his son's millennial generation.
His son Joshua and his friends had no interest in putting on jackets, trousers or collared shirts. Ko said he didn't blame them. "The millennial guy doesn't have a suit that fits his lifestyle," Ko observed.
So Ko, president of better brands for BJD Inc., headquartered in Bell, Calif., decided to design a suit that would appeal to the millennial guy. He reasoned that a millennial man would want a suit that shared details with athletic clothes such as sweatpants and hoodies. It could be something that this guy would wear with the high-end sneakers that have become a millennial obsession.
The clothing maker reasoned that a millennial would want a suit that would be easy to care for, be relatively affordable and fit into a life that includes less than genteel means of transport such as skateboarding and bicycling. "If you made a stretch suit that breathes and it is machine washable, you are hitting that target customers' lifestyle," Ko said.
Fast forward to the Liberty Fashion & Lifestyle Fairs trade show in Las Vegas in August, when Ko introduced his first full collection centered around his millennial guy suit.
It's called Jomo Harajuku, inspired by Tokyo's hip district for art and fashion called Harajuku. It is also influenced by the acronym JOMO, or the Joy of Missing Out, defined as keeping one's own counsel and not following the crowd when it comes to work and play.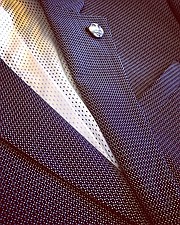 Working the athletic-style angle, Ko designed trousers outfitted with drawstrings, similar to the drawstrings found on sweatpants. Instead of a typical suit lining made from non-breathable satin weaves, Ko's suits used athletic mesh.
Also, like athletic clothes, Jomo Harujuku's fabrics have stretch and use machine-washable polyesters and bonded European fabrics. Ko contends that many of the label's fabrics are water repellent and that the shirting has a fabric protector to guard against stains.
In addition, environmental concerns are being addressed, Ko said. Fabrics for future collections will use sustainable fabrics such as recycled polyesters. Travel is important to this line. Suits are outfitted with a pouch, which makes them easy to pack.
Staying true to the line's name, the clothes are intended to have a unique style, Ko said. The jacket's cut is more fitted and shorter than the suit worn by the millennial dude's dad. Some shirts have digital prints such as floral prints, geometric prints and camouflage prints.
Jomo Harajuku's collection also features hoodies and sports shirts like a tee featuring a zigzag-shaped burnout pattern.
Wholesale price points range from $36 to $68 for shirts, $46 to $68 for pants and $115 to $132 for jackets.
The line is based on separates, Ko said, with the ability to wear hoodies and blazers in the same outfit. "You can build your wardrobe the way you see fit," he explained. "You don't have to wear blue with blue. You can mix it up. That is what this lifestyle is about."
RELATED STORIES