FINANCE
Nicholas Nunnari Joining CIT's West Coast Office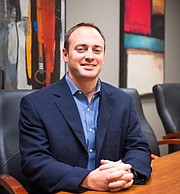 CIT named Nicholas Nunnari vice president and business development officer for the company's commercial services team in Los Angeles under the direction of CIT Western Regional Manager Darrin Beer.
"Nunnari will play an integral part in developing and growing our West Coast portfolio," Beer said. "He has a strong track record of success in establishing new credit, trade and financing solutions for consumer product companies."
Nunnari was previously with Merchant Factors Corporation as vice president, account executive and new-business officer. His career also includes stints at the NFL Network and Fox Sports in Southern California.
Nunnari will assist CIT's commercial-services team with advancing its strategic initiatives and continuing its expansion throughout the region.
"I'm excited to join CIT and work closely with Darrin and the team to support the new business-growth objectives of the Western region," Nunnari said.
Nicholas Nunnari is the son of Don Nunnari, who recently left his position as executive vice president/regional manager at Merchant Factors to pursue a new opportunity.