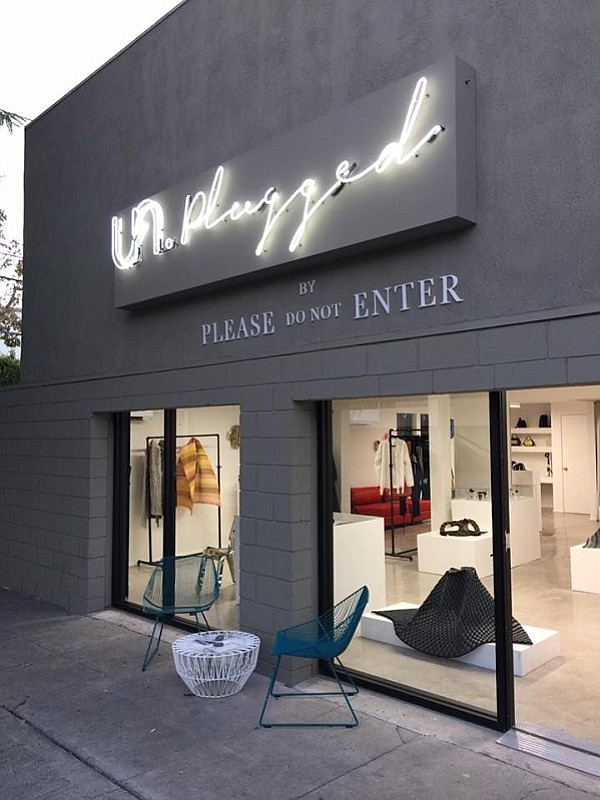 RETAIL
DTLA's Please Do Not Enter Opens in WeHo
After a venturing into Los Angeles' Westside with a pop-up shop, downtown Los Angeles' Please Do Not Enter boutique made its bid for the Westside market permanent.
On Oct. 15, the store held a soft opening for the permanent, 1,000-square-foot boutique at 643 N. Flores St. in West Hollywood, Calif. The space, called UN.plugged by Please Do Not Enter, is located across the street from the six-year-old Vivienne Westwood flagship, and in the same block as a Rebecca Minkoff store.
Nicolas Libert, a co-owner and co-founder of Please Do Not Enter, said that the downtown Los Angeles Please Do Not Enter store will continue doing business at 549 S. Olive St, near Pershing Square. However, he thought that it was crucial to open another space.
"There is a strong community of people who are big shoppers who don't want to go downtown for the moment," he said. "Instead of ignoring these people, we learned to work with them."
The Westside space formerly served as office space and as a residence. Libert said that the West Hollywood shop will offer a completely different set of fashion, jewelry, art and design compared to the downtown store, which primarily carries merchandise from international designers who exhibit at Paris Fashion Week, such as Denis Colomb, Walter Van Beirendonck and Y/Project. Libert said that most of the pieces come from small production runs and many are one-of-a-kind.
Libert hopes the new boutique will serve as an alternative to the mono-brand stores lining many retail streets in Los Angeles. The West Hollywood shop will be multi-brand and will offer independent designers that Los Angeles residents have not seen. Some will be making their American debuts at the shop, Libert said. The merchandise is intended to provide an alternative to the fast-fashion scene.
"It is something you will keep for a long time," he said of Please Do Not Enter merchandise. "It's a slow pace of fashion."
The store also was intended to serve as a mediation space. The back of the store will feature a garden.
Libert and Please Do Not Enter co-founder Emmanuel Renoird are currently also running a pop-up shop in West Hollywood. The pop-up, located at 8382 Melrose Ave. in the site of a former Helmut Lang shop, will remain open until the first week of November. Then the site will become gallery space showing the works of Arik Levy.
RELATED STORIES