As of Friday, September 8, 2017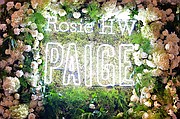 For their Fall/Winter '17 collection, Paige Adams-Geller and Rosie Huntington-Whiteley let their imaginations roam wild for their Rosie HW X Paige collection.
It's the second Rosie HW X Paige collection that Adams-Geller, founder of the Paige denim label, will create with model Huntington-Whiteley.
The collection's theme was "model on duty," which was introduced at a Sept. 6 debut party at the Paige flagship store at the Brentwood Town Center in Los Angeles' exclusive Brentwood neighborhood.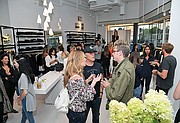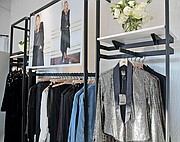 The first Rosie HS X Paige collection, released earlier this year, imagined what a model would wear "off duty." The collection's colors were light, and it had an edge that would fit in at the beach. The collection's "model on duty" side was directed at nightlife. Adams-Geller said that it was inspired by rock 'n' roll.
One piece of the collection is a gold sequined tuxedo-style jacket, which features shawl lapels and a stylish center-seam detail on the back of the jacket.
Another look is a dark, duster jacket, which features burn-out fabric and some beading. Looks for bottoms include jeans with a high waist inspired by cummerbunds. There's also a skinny jean that looks like a leather pant. The jean also features ankle zips to uncover the wearer's ankle.
The Rosie HW X Paige line was intended to run no more than two seasons, but that could change, Adams-Geller said.
For 2018, Adams-Geller hopes to focus on building more lifestyle categories for Paige's men's division.