As of Thursday, September 14, 2017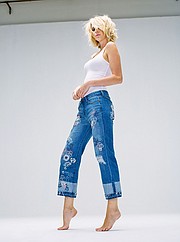 Los Angeles–headquartered Liverpool Jeans Company is on the move.
In July, it rolled out its first men's denim line. Now, it is announcing a pricier women's capsule collection, called LVPL by Liverpool. It makes its trade-show debut at Coterie in New York City, which runs Sept. 17–19.
The six-piece line will feature premium denim from Italy and Japan and increased embellishments, said Jill Perilman, Liverpool's design director. In a break with the past, LVPL will be the first Liverpool jeans to retail for more than $100. The collection will range from $119 to $149, Perilman said.
The increased budget gave Perilman and her staff extra room to experiment with design. The embellishments are something new for a denim line that has generally embraced a low-key look.
For the debut LVPL capsule, jeans will feature vintage-style floral embroideries as well as colorful floral embroideries going down the side seams of the jeans. "It's almost editorial," Perilman said of the look, which she said leans toward a runway look, not something seen on the street.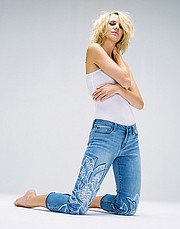 Other styles will feature indigo embroideries or floral shapes sewn into the fabric of the jeans.
LVPL's debut also will offer boot-cut styles and cropped wide-leg jeans, another new step for the label's women's looks, Perilman said.
Perilman joined Liverpool, a company founded by her husband, Ron Perilman, in 2014, after selling her jeans-trend consultancy Denimhead in 2011 to WGSN, a London-headquartered market-research group, for an undisclosed price.
A Liverpool brand statement noted that the company's point of difference is its price and its fit. It works with Dual FX T-400, a fabric by Lycra. "It creates a high stretch and recovery," Perilman said. "It won't bag out."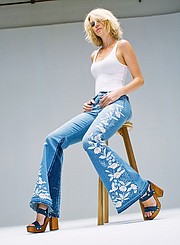 At Denimhead, Perilman profiled wash houses, dye houses and the people building the denim industry. She kept some of those relationships when she became Liverpool's design director.
She said that the secret to building a successful denim brand became clearer after years of being a consultant and a denim designer. She said that success comes when all segments of a company work together.
"Every team here works so well together. It's a secret to a successful brand. If you don't have everything humming at the same time, you cannot succeed," she said.