RETAIL
Mayor, NJAL Host Meeting With Apparel, Creative Community at City Hall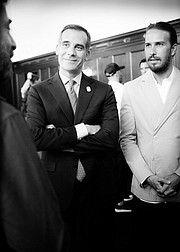 Mayor Eric Garcetti and Not Just a Label, the organization that represents independent designers, hosted a meeting featuring members of Los Angeles' creative community.
Held in the Tom Bradley room atop Los Angeles City Hall, the Sept. 7 event was billed as "Cities and a Bold Vision for Retail." It was the third event NJAL has hosted in Los Angeles.
"Creativity is the currency of the future," said NJAL founder Stefan Siegel. "Not Just a Label leverages one of the most creative communities on the planet. We are proof of the concept that change in fashion is possible."
Earlier this year, Siegel expanded NJAL from its London roots and opened its first U.S. office in Los Angeles. The organization is currently working on building "the first intellectual-property marketplace," Siegel said, explaining that rather than shopping for garments, retailers can shop for design rights.
In Garcetti's speech to the crowd of apparel designers, retailers, manufacturers, publicists and event organizers, the mayor said one of Los Angeles' greatest assets is its diverse population, which includes people from 39 countries that have their largest populations outside of their own country in Los Angeles.
"Not Just a Label came here because it recognizes something in Los Angeles that we're all familiar with," Garcetti said. "This improbable collision of cultures is, in many ways, the face of the world today. For those of us who are Americans, I would offer it's the face of this country tomorrow. It's a place where we don't see the division between us, but we see the strengths of this currency, where we don't divide one another but we look at what it is to propel one another. We don't make enemies of one another; we make new alliances with one another. In Los Angeles, creativity is around every corner. Collaboration is inevitable here."
The mayor's speech introduced a panel discussion that included Doris Raymond, owner of the vintage clothing boutique and consultancy The Way We Wore; Zach Brooks, general manager of Smorgasburg LA; Brent Davis, brand measurement lead for Snapchat; Chris DeFaria, president of DreamWorks Animation; Jen Guarino, vice president of manufacturing for Shinola; Dan Katz, transportation policy counsel for Hyperloop; Jay Luchs, vice president at Newmark Knight Frank; Phil Pavel, former managing director of the Chateau Marmont and managing director of NoMad Los Angeles; and Ari Popper, founder of SciFutures.
Sophie Hackford, resident futurist at NJAL, moderated the panel. "I believe in 30 years you will look back and say 2018 is the very beginning of the Internet. Social media is not the pinnacle," Hackford said.
She believes data and artificial intelligence will define our experience of cities. "Sensors are everywhere and all of this is leaving digital breadcrumbs," Hackford said. "Cities are becoming a virtual version of the Internet, a physical web. We're going to be able to Google the world the way we Google the Internet. After a while your Amazon Echo will order your toothpaste or Uber before you knew you needed it."
Several speakers mentioned how their areas of expertise—from food to hospitality to transportation—will affect apparel and retail. "Retail needs to completely change—even if it wants to be the same," Hackford said.
For The Way We Wore's Raymond, many of the high-tech ideas discussed by the panel, such as virtual environments that blur entertainment and shopping, have little impact on her business of buying and selling vintage garments. "I feel like I want to be a dinosaur—I don't want to change," she said. "Our store is a little anomaly. I sell one item, in one size and one color. People feel my passion and enthusiasm. I'm able to tell the history of a piece."
Los Angeles remains a draw and a home base for many designers, including Jeremy Scott, Hedi Slimane, Rem Koolhaas and Tom Ford, Raymond said.
"There's a reason creatives come to Los Angeles," she said. "We are the center of the universe for design."
But while her vintage clothing business sets her apart from traditional apparel retailers, Raymond faces the same challenges of other retailers in Los Angeles. "There are so many little details we are responsible for as retailers, but we need the support of the city," she said. "Small businesses create the flavor of a neighborhood. I think it's time for the city to look at the micro scale rather than the macro scale."