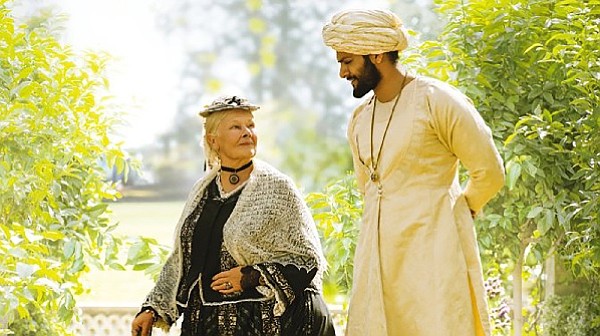 "VICTORIA & ABDUL" DESIGNER CONSOLATA BOYLE
Queen Victoria: On Screen and IRL
Costume designer Consolata Boyle spent months in research for her latest film, Stephen Frears' "Victoria & Abdul," which opened in theaters in Los Angeles and New York on Sept. 22.
On Sept. 21, Boyle dropped by the Fashion Institute of Design and Merchandising and the FIDM Museum & Galleries to discuss her work. In honor of her visit, museum curators put on display an 1897 piece worn by Queen Victoria pulled from the. FIDM Museum Permanent Collection.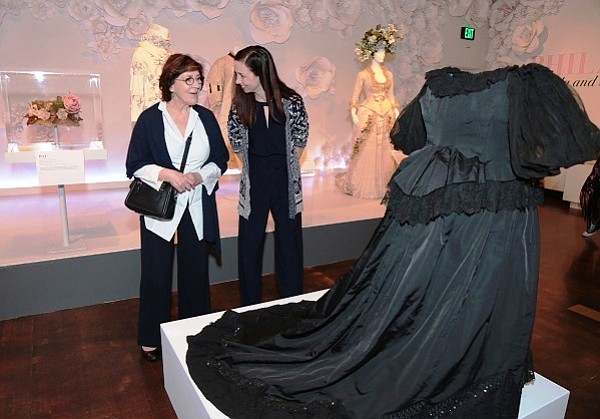 Likely, the vintage black ensemble was worn by the Queen during the period covered in the film. "Victoria & Abdul" details the friendship that formed between Queen Victoria and an Indian servant, Abdul Karim, who became a teacher and confidant during the last 15 years of the Queen's life.
"In many ways, the thrust of the script was their private times together. In a way, it's an imagined world," Boyle said. "It was a very private friendship, a mother-son relationship."
The film juxtaposes the darkness of the English court with "the light and color of India," Boyle said. "It told our story beautifully. The two worlds, that clash of cultures, which Victoria was so keen to learn about."
Queen Victoria was so devastated by the death of her husband, Prince Albert, in 1861, that she wore mourning clothing until her death in 1901. That presented a special challenge for the filmmakers and for Boyle who had to design costumes for Queen Victoria (played by Judi Dench) that would work for the camera. Boyle described the process of creating Queen Victoria's costumes as a "layering of texture."
"Victorians were so much about embellishment but I took it a step further to make the blacks three dimensional," she said. "Ribbon, pleating, tucking, embroidery and jet, [which was traditional] mourning decoration. It's almost like a living garment around her."
Boyle also created special jewelry for the character, including ceremonial jewelry such as Victoria's silver and diamond crown, which was designed by Prince Albert. Pieces included lockets that contained the braided hair of a deceased loved one and earrings made with Victoria's children's baby teeth.
"Jewelry was very personal," Boyle said.
This is the third time Boyle has worked with Frears on his films. She designed the costumes for "Florence Foster Jenkins" and "The Queen," both of which earned Boyle Academy Award nominations for costume design. Boyle also worked with Frears on his 2013 film "Philomena."

In "Victoria & Abdul," Boyle was challenged to pad svelte Dench into the familiar shape of late-era Queen Victoria. Boyle had faced a similar challenge with Meryl Streep, who played the lead character in "Florence Forster Jenkins." The padding had to be lightweight and allow the actor to move freely.
"You're creating the silhouette or the aura of Victoria," Boyle said. "It has to have a complete feeling of reality but it's a complete construction. It's smoke and mirrors."
Boyle's next project is a film about Marie Curie, the Nobel Prize-winning scientist who conducted pioneering work on radioactivity.

"I love designing costumes for interesting women," Boyle said, describing Curie as a "complex, extraordinary woman who had a sense of inner style."
"There's something about images of her that are arresting and very contemporary," she said.