As of Friday, September 29, 2017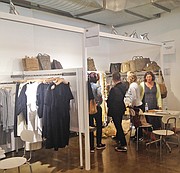 NEW YORK—Though the news is rife with stories about internet retailers hammering bricks-and-mortar stores, at the Designers and Agents trade show, which took place Sept. 16–18, independent fashion boutiques—and the specialty brands they carry—were alive and well.
"Business is good," said Ed Mandelbaum, who founded D&A 21 years ago. For the upscale customer seeking a curated mix of products, he said, "that woman is shopping. Not all levels are. The department-store woman is running somewhere else. Our retailers are healthy."
These included a few major, multichannel retailers such as Barneys New York and Anthropologie, as well as specialty online retailers like Net-a-Porter and Gilt Groupe, overseas specialty stores such as Fenwick (U.K.), and many locally focused boutiques such as Henry Lehr (East Hampton, N.Y.), Capitol (Charlotte, N.C.) and New York City shops including Hotoveli and John Derian.
These buyers were courted by more than 300 apparel brands exhibiting at D&A. "I get almost all of my business at D&A," said LA–based handbag designer Kim White, whose creations include bags made from vintage automobile textiles. "Mostly boutiques, with a few other stores, all bricks-and-mortar."
Kevin Powers of C6ixShoes, a U.S. distributor for the Italian brand Shoto, said his business is also boutique driven. He noted that though this edition of D&A was "one of the best shows we've done in a long time," competition from online retail is an ongoing challenge.
"On a $550 shoe, the tax alone is worth buying online. So you have to carry what [online retailers] don't have or beat them on price—but you'll never beat them on price."
How does a specialty brand compete?
"Make sure it's at the boutique level," Powers said, pointing out the hand-dyed leather of a Shoto boot. "That will keep driving the customer back to the boutique."
New York–based designer Christine Alcalay, who debuted at D&A last year as part of the Made in New York initiative, also saw brisk sales. "I printed out 40 line sheets, and I have two left," she said. "D&A is a great show because people are here to really do business."
Mandelbaum said that 70 percent of D&A's exhibitors come back repeatedly. "We're about clarity—putting together the creative with the right stores, so commerce gets done," Mandelbaum said.