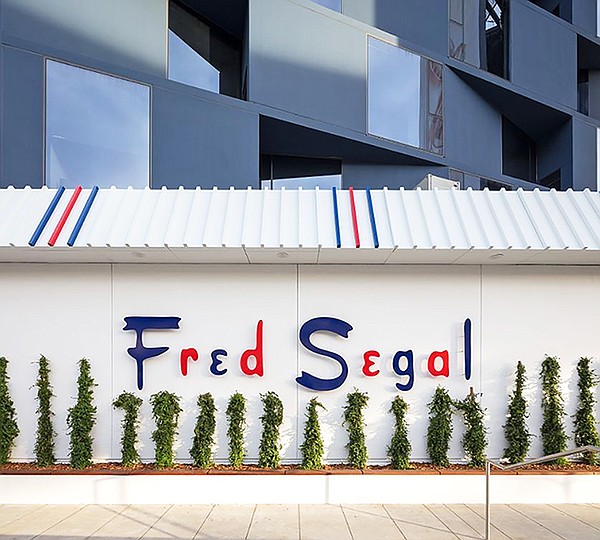 FRED SEGAL
A New Fred Segal Takes a Bow
A Fred Segal boutique emporium opened for business Sept. 26 at the edge of the Sunset Strip in West Hollywood, Calif.
The 13,000-square-foot store, located at the corner of La Cienega and Sunset boulevards, displays the iconic red, white and blue Fred Segal logo that has identified the retailer since the 1960s, when the retailer's locations in Los Angeles and Santa Monica, Calif., became landmarks on the Los Angeles boutique scene. The locations, which housed a community of separate shops, were famous for starting trends in boutique fashion and also made the reputations of many California fashion lines over the past five decades.
However, the new store is being positioned as a Fred Segal for a new era. "We captured the spirit of Fred Segal," said John Frierson, president of Fred Segal. "But we look to the future. It's a new community."
The shop is located on a hill, which gives it a commanding view of Los Angeles. The company had previously announced a slate of retailers set to do business at the new Fred Segal. It includes multi-line shops such as Hartel, a men's shop, the Collective, a women's shop and a shop of designers curated by Council of Fashion Designers of America.
Other retail areas will include branded spaces for Darren Romanelli's The Pancake Epidemic; Double RL; Levi's; Fred Segal Originals, a clothing line designed by the Fred Segal brand; LTH JKT; upcycled clothing shop Atelier & Repairs; as well as the first bricks-and-mortar shop for the Los Angeles clothing brand Libertine. The space also will offer high-end kids' shop Eggy, eyewear store Framed EWE, florist Flower Girl LA and Tesoro, a home-and-gifts shop.
Also at the new Fred Segal is a pop-up shop called Fred Segal Loves. The first occupant of the pop-up space is Levi's, so the space will be called Fred Segal Loves Levi's. The pop-up's offerings include an on-site tailor, who will provide alterations, repairs and special custom details such as chain-stitch embroidery. One of the items featured at the pop-up is Levi's Commuter Trucker Jacket with Jacquard by Google, a new angle in wearable technology.
The jacket features reflectors for bicyclists riding at night and electronics on the jacket's cuff. With touch commands, the wearer can control a mobile device placed in the jacket, for music, phone or information on traffic and directions, according to a brand statement.
The new Fred Segal space will also feature dining, including the Fred Segal Café by Tartine. Opening later this fall will be Tesse, a concept by restaurateur Bill Chait.
Frierson said that the new Fred Segal will work with individual retailers and brands exhibiting in the store as partners. He did not go into details about what those partnerships entail, but he said that each will be different.
In 2012, New York company Sandow acquired the rights to the Fred Segal name. In 2014, Sandow announced that it had partnered with Evolution Media Partners to build a new Fred Segal. Evolution is a partnership between CAA, Participant Media and TPG, an investment firm. Also in 2012, a Fred Segal store at Los Angeles International Airport opened.
In 2014, a Fred Segal compound in Santa Monica, Calif., was shuttered to make way for a new retail and residential development. The entrepreneurs behind the West Hollywood Fred Segal are in litigation over the use of the Fred Segal logo with the compound on Los Angeles' Melrose Avenue, where Fred Segal was founded in 1961. Prominent retailers Ron Robinson and Ron Herman continue to run shops at the Melrose compound.
In 2015, Fred Segal stores opened stores in Japan. That same year, Sandow opened Fred Segal stores in Las Vegas, but those shuttered the next year. Retail veteran Allison Samek joined Fred Segal as its chief executive officer in November 2016. Frierson forecast that Fred Segal would open additional shops in other American cities.