RETAIL
PacSun's Schoenfeld, Macerich's Coppola Talk Retail's Fall and Possible Rise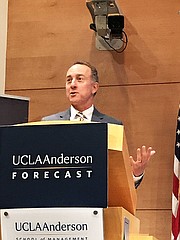 Headlines say that fashion retail is being pummeled. Others believe a bright future is coming into focus.
Those two points of view were at the center of a panel discussion called "Where Does Retail Go From Here?" It followed a Sept. 27 presentation of the "UCLA Anderson Forecast" on the campus of the University of California, Los Angeles.
Speaking on the panel were two businessmen in the middle of a turbulent retail scene that many hope will take a turn for the better. One was Art Coppola, chairman and chief executive officer of Macerich, which owns and operates several retail centers, including the Los Angeles-centric Westside Pavilion and Santa Monica Place.
The other was Gary Schoenfeld, who joined surfwear–inspired Pacific Sunwear of California in 2009 and then led it through a bankruptcy before leaving the company this year. Previously he had been with Vans.
Schoenfeld observed that historians will remember the current time as an era of change on par with the Industrial Revolution. It is a time of great experimentation for retail, with the big winner being Amazon.com. A slide in Schoenfeld's presentation forecast that by 2020, Amazon's total sales could exceed that of all of America's regional malls combined.
During this time, retailers such as Macy's will continue to be challenged and, with the exception of top-level retail centers, malls will continue to have a tough time, Schoenfeld said.
He suggested that retailers must always challenge themselves with questions such as "Why do customers need you?" "Do you offer a focused assortment and a proverbial curation that will attract shoppers?" "Do you offer a compelling experience that will attract shoppers?" "Do you offer an omni-channel experience?"
Coppola forecast that digital commerce was going to pave the way for a retail environment that can withstand many challenges. "This is an Age of Aquarius for brands. This is their time to rock 'n' roll," he said.
During this time, many brands will start out online with a direct-to-consumer model. Then they will develop and mature their online business before opening bricks-and-mortar stores. "They build a community on the web. When they open a store, they are guaranteed winners," Coppola said.
The shopping center magnate forecast that the business model for malls with prime locations is still robust. He characterized malls as being in the town-square business. "There's a bet that a lot of people will step back from being socia, that they'll stay home," he said. "I think it's a dumb bet."
Before the panel finished, Coppola and Schoenfeld agreed that the two points of view could exist in the same market.