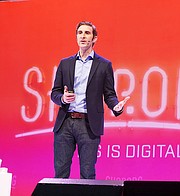 With the star power of Tyra Banks and Kobe Bryant making speeches, National Retail Federation's Shop.org convention made the case that digital commerce was on a course to grow even more prominent with the help of burgeoning technologies such as voice technology, artificial intelligence and virtual reality.
Dubbed "This Is Digital," the retail tech summit and trade show ran Sept. 25–27 at the Los Angeles Convention Center in downtown Los Angeles.
Marc Lore, who was celebrating his one-year anniversary as president and chief executive officer of Walmart.com, said that the go-go growth in digital commerce would make room for many of the gadgets that are being introduced today.
"For most technology, there is a time and a place for it," Lore sad. "Most technology we are hearing about will come to fruition—especially virtual technology," he said.
The trade show also hosted mini-talks where e-retailers talked up their company's growth and experiences engaging the new tech world. Amazon was a particular point of interest during many of these talks. Some subjects were titled "The best alternative to Amazon Prime: membership shopping networks" and "Out-personalizing Amazon: top tips from the retail personalization index."
Executives dressed in blazers and slim-cut jeans made their way through the convention center to listen to industry talks and preview exhibits and features such as a pretzel bar and musician Brian Nicolet playing guitar. There was a booth where digital pundits were interviewed for Shop.org podcasts on trends in the digital world.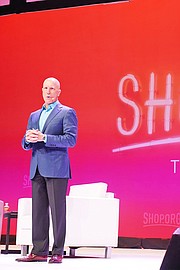 Deloitte Digital produced an installation devoted to burgeoning technologies of virtual reality and augmented reality. At the installation, visitors put on headsets that posted animation of environments such as a kitchen and a campsite. Aided with this technology, visitors could choose to make purchases of food for the kitchen and a tent for the campsite.
On the trade-show floor, a wide array of companies produced booths in order to talk about their services. Canada-based Searchreputation.net promised to protect businesses' online reputations, through a number of initiatives such as search-engine techniques.
At the booth for Los Angeles area company Gatsby, company representatives said that Gatsby would help retailers find micro-influencers among their own customer base. These influencers can become ambassadors for retailers. The influencers are people with big social-media followings, but, unlike the Kardashian/Jenner family, have not turned their social-media cachet into a career. Gatsby contends these micro-influencers have more authenticity than ads or other means of communicating to the public.
Also running booths were market researchers such as StyleSage, a company that monitors retailer brands and retailer pricing and promotions and combs through social media to gauge what is happening in retail.
Nod to physical retail, too
While the focus of the sprawling convention was on digital commerce, speakers at the convention also addressed physical retail.
During a keynote speech, Michael White, senior vice president and chief technology officer of Disney Interactive and Disney Consumer Products announced that the fleet of Disney mall stores would live-stream parades from Disney Parks in order to drive consumer traffic to the stores.
Adam Goldenberg, cofounder of Techstyle Fashion Group, the El Segundo, Calif.–based owner of JustFab, Fabletics and Shoe Dazzle, said that his company was going to roll out an unspecified number of stores in 2018 because digital commerce was paving the way for much stronger physical commerce.
However, Goldenberg forecast that the growth of digital commerce would continue to skyrocket. In seven years, he forecast that 50 percent of American retail would be conducted over digital channels such as smartphones.
Even a panel discussion dedicated to online-based "cult brands," quickly veered into a discussion of the benefits of bricks-and-mortar retail. All three panelists—Dave Cho, cofounder of cosmetics brand Soko Glam; Bobby Farahi, cofounder of San Francisco–based e-commerce retailer Dolls Kill, and Joey Zwillinger, cofounder of direct-to-consumer footwear brand Allbirds —discussed their recently opened physical stores. Soko Glam recently bowed in-store shops at Bloomingdale's, while Dolls Kill and Allbirds both opened stores recently in San Francisco.
Crunching the numbers
On the closing day of the show, the NRF launched a new quarterly report that focuses on retail trends from the consumer point of view.
"This is an industry transitioning rapidly," said Katherine Cullen, NRF's director of retail and consumer insights. "We wanted to tell the story of retail through the consumer lens."
Changes in how customers research, shop and buy have meant retailers have to change everything from the way they manage their inventory and handle fulfillment to how they market their products and services, Cullen said.
Shop.org's tech summit came at a time when dire reports about stores closing have dominated headlines. Mark Mathews, NRF's vice president of research development and industry analysis, said the news of store closures doesn't paint a complete picture of the industry. Instead, he said he sees new stores opening, companies testing new formats and new technology driving consumer engagement.
"I'm not seeing it in the data," he said. "It's a highly dynamic retail industry. That's something we've seen since the beginning of retail. Change is always constant in our industry."
Cullen and Mathews spoke on a media panel that included Greg Buzek, president of the IHL Group, which released a report over the summer "debunking the retail apocalypse."
Buzek said his research found an uptick of 1,326 core retail stores opened this year. IHL looked at retailers with 50 or more stores, but the company did not include pure-play e-commerce retailers, pop-up shops or small retail boutiques.
"We need people to understand the data they're reading doesn't represent the full industry," Mathews said.