DIRECTIVES WEST TRENDS
Directives West Shines Spotlight on Major Trends for Fall/Winter 2018
Photo Gallery
Directives West Shines Spotlight on Major Trends for Fall/Winter 2018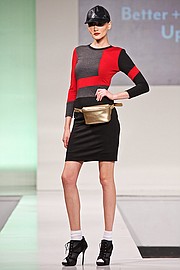 Photos by Norman Zeller
Denim has been on a roll for the past few seasons, but it will continue to push forward with more distressed looks, high-wasted tops, Mom jeans and cropped silhouettes.
People are still mad for plaid, which will be more evident this Fall with pants, leggings, ponchos, blouses, dresses and suits bearing its imprint.
New to the scene is a "Little House on the Prairie" inspiration that is infusing Fall with Western-wear looks heavy on prairie floral prints, rodeo fringe and patchwork looks. Hold on to your cowboy hat for this one.
For novelty details, the Fall fashion scene will be populated with sequined dresses and jackets, faux-fur jackets and shiny pants.
Those were some of the Fall/Winter trends presented by the Directives West buying office, which organized a runway show for buyers at the California Market Center during LA Majors Market, running April 3–5.
"We are seeing newness in sweaters, denim, jackets and athleisure," said Shelda Hartwell, vice president of Directives West. "The consumer is confident and more knowledgeable than ever before. We need to keep connected to her with storytelling and understanding her changing lifestyle, and social consciousness is part of that."
The boyfriend look is taking on a new angle with oversized blazers with big shoulders hitting the stores this fall. Menswear fabric that incorporates that plaid look will be popular as will slouchy pants.
Because this is California, the athleisure trend is alive and well, morphing into something a little bit more formal in fabrications that include twill and plush fabrics. Piping on the side of pants and varsity sweaters make an appearance. You can pair these looks with puffer jackets, moto jackets or track jackets, depending on your mood.