TECHNOLOGY
Luxury e-Consignment App Tradesy Acquires Styling Service Fitz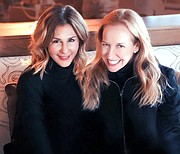 Nearly six years after its official launch, the luxury secondhand-clothing marketplace app Tradesy has acquired Fitz, an in-home service that books professional stylists for clients who require closet organization and wardrobe styling.
Fitz, which was launched by Gilt Groupe and Glamsquad cofounder Alexandra Wilkis Wilson, will now be known as Tradesy Closet Concierge. The service allows Tradesy's 6 million members to be joined with personal stylists who will help shed unwanted pieces and resell the clothing through the online marketplace.
"We've combined this top-tier experience with a new Tradesy consignment service that makes selling even easier. It's everything busy, stylish women need to fully manage their modern wardrobe," said Tradesy founder and Chief Executive Officer Tracy DiNunzio in a statement.
Since its acquisition by Tradesy, Fitz is now headquartered in Santa Monica, Calif., but was founded in New York City. While stylists from the Tradesy Closet Concierge currently serve New York City's boroughs of Manhattan, Brooklyn and Queens, certain clients in Fairfield and Westchester counties, Long Island, and New Jersey can book services for an additional fee. By the end of 2018, the company plans to expand the service to all of Connecticut and Los Angeles. Service to other major cities throughout the United States is planned for 2019.
"Tradesy is the ideal partner for Fitz," explained Wilkis Wilson in a statement. "With Tradesy's robust technology, infrastructure and large fashion-savvy user base, the service we built will now be positioned to scale dynamically across the country with Tradesy's millions of customers."
Tradesy Closet Concierge's most popular—and comprehensive—package, Closet Curation, is available to clients who require the services of two stylists for three hours, with wardrobe reorganization and item resale. Clients who need only one stylist for a two-hour session to organize their closets can book an appointment for Styling, which doesn't include clothing resale on the Tradesy site.