TRADE SHOWS
New Adventures in Selling at LA Majors Market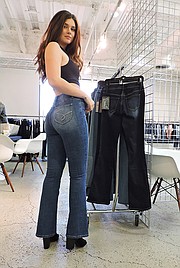 This edition of LA Majors Market, held April 3–5 at the California Market Center during Passover and only days after Easter, offered an elevated mood at many showrooms.
Vendors were excited about appointments with trusted retail partners as well as establishing new relationships. Buyers from Macy's, Belk, Charlotte Russe, Fashion Nova, Windsor, Forever 21, Bluenotes, Century 21, Burlington Coat Factory, Ross, Von Maur, TJ Maxx and Dillard's searched for vendors who could best prepare them for Fall and help them navigate through changes in consumer demand.
Retailers found a fresh, new approach to the LA Majors Market the first day and hoped this momentum would continue throughout the week.
"The Doneger Group and Directives West show was strong. They changed the way they're doing their show, so it was great because it highlighted some of the big items as opposed to big ideas," said Natalie Alba, who is a juniors and young men's division merchandise manager for Dillard's.
Discussing the difficulty with purchasing for the third quarter, she explained that her goal was to find unique designs in Fall sweaters, lightweight knits, separates, juniors and denim.
"I'm trying to find a little bit of lightness in a season that is regularly known to get a little darker," she explained.
Busy taking orders for its Fall 2018 collection, denim company YMI had a promising start. Its new looks included outerwear, '90s-inspired plaid pants and athletic-stripe jeans in addition to its new line of "Dream" denim.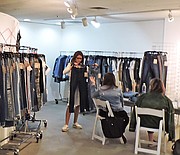 "Today has been a great day, a great way to start a show," said Vice President Michael Godigian. "We've had a very busy market so far for the first day, and it continues to be a good flow of buyers walking through, so we're excited about Fall."
At Monteau, Ronnie Tobet, head of sales for the girls' and tweens division, felt confident about her meetings, where she discussed trends including shirt-dresses, walk-throughs, jumpsuits, rompers, hatchi knits, sweater knits, tie fronts and bell sleeves as well as patterns in polka dots, stripes and plaid. Citing the shift in weather patterns throughout the United States as a new consideration for the industry, she believes in a buy-now, wear-now approach, as consumers are more financially prepared to spend but not willing to let go of their dollars so quickly.
"You've got to give them [consumers] a reason to part with that money, and the only reason to do that is if they have a need. So, a need would be 'Oh, today it's 60 degrees,' they're in the mall all day, then the next day it's 40 degrees and they're not shopping again," she said. "We need to be much more in tune with that."
Pleased to report traffic from long-term partners and buyers who didn't schedule appointments, Dollhouse's Ira Spiegel, who serves as the company's vice president of sales, felt these new accounts might have been inspired to meet with him after seeing Tuesday morning's fashion show.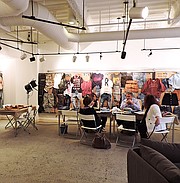 "I think they reacted nicely to some of the stuff we had in the Directives West show this morning," he said.
Citing rising travel costs that have caused him to bypass other shows, Spiegel noted that Dollhouse's presence as a denim brand made this week extremely important.
"LA [Majors] Market is always important because LA is a real hotbed for denim," he explained "It's what draws customers from all over the country. Customers that we may not be able to see in New York are always going to come for LA Market."
Other showrooms felt that the April market usually has less traffic, but despite this overall trend they were seeing more retailers than expected. At juniors brand Indigo Rein, there was a lot of optimism as spring holidays came to a close.
"There's a light at the end of the tunnel," said Vesna Horton, a sales representative. "Seasonals are starting to check, so obviously with spring break and Easter, over the past two weeks, it's kind of picked up, for sure."
The company is promoting a sustainability initiative, which many retailers are responding to as they continue to offer products that align with the demands of millennials and Generation Z.
There was interest in Immediates at Ikeddi—which offers women's, juniors and tween designs by Ultra Flirt, No Comment, Miss Understood and Kristen Nicole—but there was also a large demand for the company's Fall pieces.
"We've been booked all day," said Susan Doneson, an account executive. "There is a lot of novelty in sweaters, so we're definitely booking a lot of sweaters. A lot of athleisure for Fall, new fabrics, new washes, definitely a lot of newness in the fabrics."
The continued denim-jacket trend has yielded greater interest in Highway Jeans' offerings. Sharon Perri, who is a senior sales manager, was satisfied with the first day and explained how retailers responded to new products. "Anything with a Lyocell hand feel, a softer hand feel, in tops has been amazing for us," she said. "Denim skirts are still trending for me both in minis and more midis, but going into Fall, the strength and length will be 19 inches."
The brand has enjoyed a great response to its softer fabrics and an exciting new launch of an "All Love, No Handles" line, a high-waisted, tummy-control jean that includes a front pocket, designed to shape the waist and hips.
With her company shifting priorities to develop more of its own goods, Goldie Mahon, associate buyer for retail chain Francesca's, had a lot of appointments to view Fall/Winter collections. She hoped to find impressive pieces but was still mulling over her options.
"The past few months, the market isn't necessarily moving as quickly as we would like it to, so we're kind of changing our focus on more product development," she said.
Waiting until next week to place orders, Mahon was thinking about how she could learn from this trip by using the experience to help her company evolve.