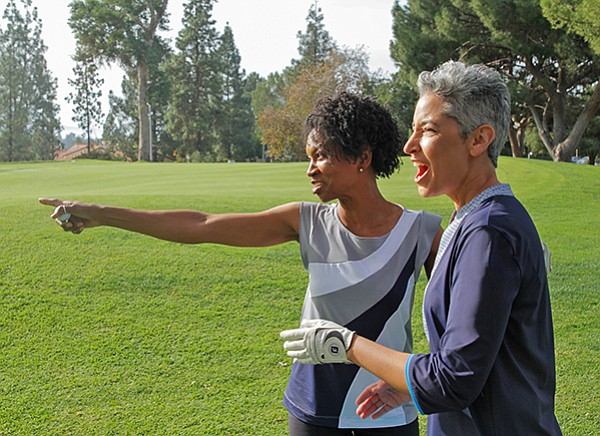 LA-MADE GOLF WEAR
Women's Golf Wear Takes Shape in Los Angeles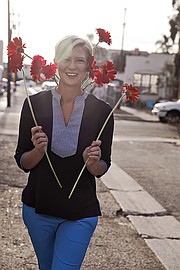 In the world of active apparel, women are often met with options that don't fit properly, lack support and don't transition well from the playing field to everyday life.
For industry veterans Dianne Jefferies Celuch and Tami Fujii, who first met when they both worked at Eddie Bauer during the late 1980s, creating a women's golf-apparel line meant using their many years of experience to launch Kinona, a Southern California–made collection that debuted in January.
In addition to their shared experience at Eddie Bauer, Fujii's career path led her to work in marketing at companies including Microsoft, T-Mobile and Pacific Market International, while Jefferies Celuch pursued merchandising through positions with Speedo, Ann Taylor and Juicy Couture.
Today, Jefferies Celuch manages Kinona's business, ranging from product design to delivery, and Fujii is free to oversee marketing and e-commerce through www.kinonasport.com. Both women share sales responsibilities.
"It works out well," Jefferies Celuch said. "We divide the responsibilities and it works really well according to our different strengths."
The two friends and business partners wanted to create a line that performed on the green yet looked stylish the rest of the day—well after tee time. In addition to shaping features in their pieces, there is more to the brand than simply looking good on the outside.
"We use Italian fabrics with higher Lycra counts that help shape and smooth but are also easy care," Jefferies Celuch said. "Inherently, our products have built in UPF [ultraviolet protection factor], shielding out 90 percent of harmful UV [ultraviolet] rays."
After building a 30-year career in the apparel industry, Jefferies Celuch was familiar with fabrics that were available through the Italian mill Jersey Lomellina, whose parent company is the Bergamo-based Carvico. While the collection's fabric comes from Italy, Kinona's manufacturing is performed at two Los Angeles–area factories—one located in El Monte and another downtown.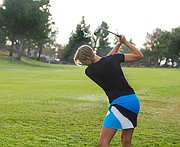 Wholesaling at $50 to $75, the brand has been shown at the ANA Inspiration tournament at the Mission Hills Country Club in Rancho Mirage, Calif., and will be present during the HUGEL-JTBC Open at the Wilshire Country Club in Los Angeles this month. In addition to hosting trunk shows at locations such as The Reserve in Indian Wells, Calif., Kinona secured a retail presence at pro shops located at some of the sport's most popular courses, including Overlake Golf & Country Club in Bellevue, Wash.; Bighorn Golf Club in Palm Desert, Calif.; and Mission Hills in Rancho Mirage.
In addition to a presence at trunk shows, selling through retail partners and golf tournaments, Kinona is also sold through its sales associates known as "champions," who are encouraged to host parties while selling the line. Combined with a traditional retail presence and trunk-show opportunities, Jefferies Celuch feels that the intimate shopping atmosphere provided by "champions" affords different experiences to try the brand.
"Our placement in a more traditional bricks-and-mortar location allows the consumer to see the brand within a larger context while our 'champions' and trunk-show model provide the ultimate in a one-on-one personal shopping experience," she said.
This strategy is paying off, as Kinona has been sold in 22 locations since its launch. At the core of its business growth, Kinona's team is listening to consumers and adding pieces that reflect feedback, such as introducing long- and three-quarter-sleeve shirt options, in addition to a longer pant design for the Fall collection.
Kinona is also targeting the needs of the female golfer over 40 years old, who hasn't been easily accommodated in this sport. As their bodies change, these golfers look for more than cute golf shorts in bright, neon plaids. They want stylish designs that flatter their shapes yet will provide comfort through 18 holes on the green all the way up to dinner.
"Our line means 'shape' in Hawaiian. We use special fusing in the waist to give shaping and build the styling details, so the back comes up a bit higher to hide muffin tops," Jefferies Celuch explained. "It's much more attractive. Much more feminine. They hang a little bit away from the body, so they don't cling."
As the line grows with more partnerships and additional pieces in the collection, Jefferies Celuch projects Kinona's revenues to climb to $400,000 to $500,000 during the first year. The company is also focused on having a presence at important trade shows and will exhibit at the PGA 2018 Fashion & Demo Experience Aug. 13–15 at The Venetian in Las Vegas.
Despite the positive reception that Kinona has received, it has not been easy to sell all the time. While California, Florida and Arizona have warm climates, which help with sales, the Northeast is challenging until April or May.
"We're figuring out how to best do the calendar," Jefferies Celuch said. "What we're looking at are smaller drops and delivery and adding business to e-commerce."