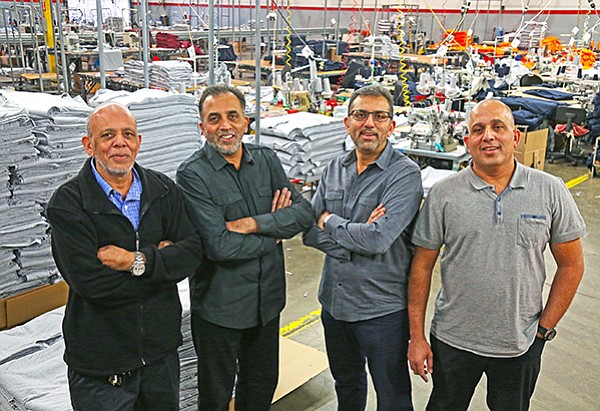 BIGGER AT BAYSIDE
AST Sportswear Takes Over Where American Apparel Left Off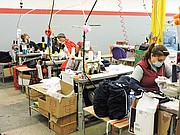 When American Apparel went bankrupt and laid off some 3,500 employees last year, another company was waiting in the wings to take over the title of the largest vertically integrated T-shirt venture in the United States.
While not as large as American Apparel, AST Sportswear likes to boast that it does everything "from dirt to shirt" when making T-shirts and its other array of products. For several years, AST Sportswear concentrated on doing its cutting and sewing in-house, but it stepped into American Apparel's shoes when it took over American Apparel's knitting facility in Carson, Calif., and its dyeing and finishing facility in Hawthorne, Calif.
By adding those two facilities, AST Sportswear—a giant of a company in Orange County, Calif.—inherited the title of the largest vertically integrated T-shirt maker in the United States. But that, perhaps, is where the similarities stop.
Where American Apparel was loud and sexy with its raucous billboards and newspaper ads, AST Sportswear does no consumer advertising for its Bayside label of basic T-shirts, caps, aprons, tote bags, sweatshirts and safety wear.
Where American Apparel was constantly making headlines, AST Sportswear has been quietly growing, slowly moving as its headquarters in Anaheim kept growing until the company bought a large facility in Brea. What started out as four brothers working long hours, six days a week, is now a large enterprise with some 500 employees.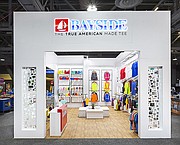 The company has been so under the radar that until last year it didn't even have any salespeople on staff besides the four brothers. That changed after it leased the former American Apparel facilities and acquired the machinery inside. "We thought, 'Let's think outside the box and grow more,'" said Abdul Rashid, chief operating officer and one of the four brothers who founded the company in 1995—at about the same time American Apparel opened its doors in Los Angeles in 1998. Oldest brother Mohammed is a manager; Ali, the next oldest, is the chief executive officer; and Omar, the youngest, is the chief financial officer. The four grew up in Diamond Bar, not far from Brea.
In the mid-1990s, the four brothers saw a big void in apparel companies that could quickly manufacture a blank T-shirt for private-label customers. This was when the North American Free Trade Agreement between the United States, Canada and Mexico had recently passed and many manufacturers were scurrying to Mexico to do production. "There was a void," recalled Abdul. "Everyone was leaving and going overseas. It was, for us, doing just-in-time delivery. People needed goods now."
The company started out small in a 2,000-square-foot warehouse space and offered one basic T-shirt—style 5100—in four colors.
A year after launching, the company started its own T-shirt label, called Bayside. That same year, AST Sportswear attended its first trade show, the Imprinted Sportswear Show in Long Beach, Calif. In those days, everyone wore a suit to the show. These days, you'd get thrown out of the show if you showed up in a suit.
The four brothers—who were still the only employees—initially reserved a basic 10-by-10-foot booth for the show because that was all they could afford. Then Abdul decided they should make a splash. "We needed an image, I thought, if we were going to go out there," he said. "I went to a business in our complex. He built our booth and we did a payment plan."
The booth mushroomed into a 10-foot-by-30-foot space, which was an eye-catching burgundy with gold trim. "People came by the booth and said, 'Wow.' They thought we were a really big company," the COO said, recalling that the company's two-page fact sheet of products consisted mostly of long-sleeve and short-sleeve shirts. Today, the product lineup fills a 68-page booklet that has several styles, including raglan crew and tri-blend crew T-shirts, racerback tanks, polo shirts, sweatshirts, fleece vests and jackets, aprons, safety wear, beanies, and totes. Fourteen new styles were added this year to pump up the fashion selection to 94 items. Basic T-shirts wholesale for about $3 and above.
That first trade show garnered AST Sportswear enough orders and contacts that by 1997 the brothers moved to a 15,000-square-foot facility near what is now called Angel Stadium of Anaheim, where they added their own cut-and-sew center employing about 100 workers. "We wanted our own facility to maintain quality, and our volume was consistent," Abdul said.
The company kept growing and moved one more time, to Anaheim Hills, before acquiring in 2013 its 115,000-square-foot facility in Brea, which houses the company's offices, warehouse, distribution center and manufacturing facility with 300 workers. AST Sportswear also has a unionized sewing factory in Huntington Park, Calif., that employs 40 workers who make T-shirts for mostly labor unions, which want union-made apparel.
After taking over American Apparel's facilities two years ago, the company grew to 500 employees. While it may not be the largest cut-and-sew T-shirt operation in the United States, most people believe it is the largest vertically integrated operation of its kind in the United States, even though the company does not disclose its revenues.
"We have been a distributor of theirs for over 15 years, and they have grown phenomenally," said Bob Winget, president of TSC Apparel in Cincinnati. He is one of 12 distributors who sell the Bayside label. "They have such an incredible presence in that 'Made in the USA' category."
Scott Wilson, a Los Angeles apparel maker who has specialized in domestically made T-shirts, has watched AST Sportswear grow rapidly over the past few years. "When you combine all the elements they have in a vertical operation, they may be the largest [in the United States] but not when it comes to sewing. There are a few companies back East that have 500 to 600 sewing workers, but they are not vertical."
Today's AST Sportswear is a far cry from the beginning, when the four brothers were doing everything—from answering phones and taking orders to pasting mailing labels on 100 boxes at a time, loading trucks and making deliveries. "There is nothing we haven't done," Abdul said. "We were working 12, 14, 16 hours a day, six days a week. Whatever it took."