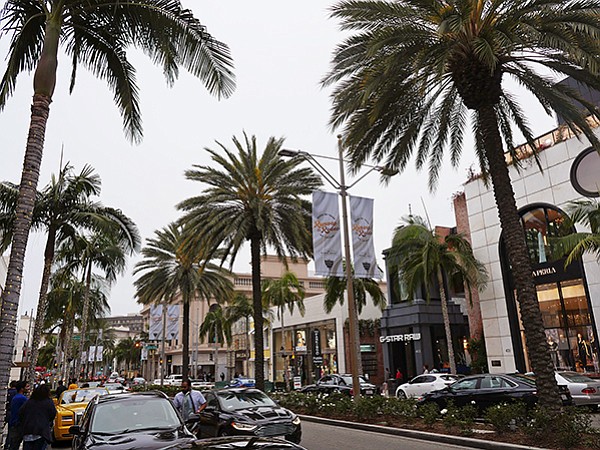 LVMH BUYS ON RODEO
Rodeo Drive Keeps Its Retail Luster With Recent Deal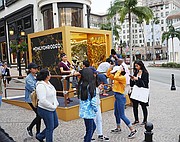 Vacancy is common for most retail streets under attack from e-commerce competitors, but not Rodeo Drive. There is hardly a vacant space on the hoity-toity retail shopping district in Beverly Hills, Calif. When real-estate news is made on the street, it makes a splash.
That was seen when the French luxury conglomerate LVMH Moet Hennessy Louis Vuitton Inc. paid $110 million for a two-story white building at 456 N. Rodeo Drive, next to a Ralph Lauren flagship. That puts the price for the 6,200-square-foot building at $17,750 a square foot.
The Paris-headquartered entity is the parent company of some very high-end brands, including Louis Vuitton, Givenchy, Christian Dior, Céline, Fendi and Marc Jacobs. It already runs boutiques for six of its brands on the street, but the company hasn't disclosed its plans for its recent acqusition, purchased on March 28.
The sale also made news because the previous owner, Sterling Organization of Palm Beach, Fla., bought it one day for $55 million and the next day flipped it for $110 million, according to a statement from the organization, which is not related to Los Angeles billionaire Donald Sterling.
After buying the property, Sterling approached LVMH about leasing the property. Instead, the company said it preferred to own it.
Jay Luchs, vice chairman of Newmark Knight Frank, who handled the deal, said the benefits of buying a building include knowing your rent won't rise or that you will not lose your lease. "They are in full control. They are the landlord. They can control their own destiny," Luchs said.
Keeping the Golden Triangle golden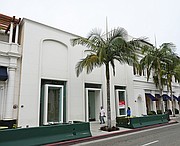 While many may doubt the future of retail in general, Brian D. Kosoy, Sterling's president and chief executive officer, said it was crucial for luxury brands to be on the affluent shopping street, which marks the center of Beverly Hills' Golden Triangle. "In New York, luxury retailers have plenty of viable options where they can locate," Kosoy said. "On the West Coast, it's all about those three, high-value blocks of Rodeo Drive, where the world's premier luxury brands must have a presence by planting their flag. As a result, when a circumstance presents itself to acquire a Rodeo Drive property, you aggressively pursue it, regardless of the complications involved in getting a deal done."
Space does not come cheap on Rodeo Drive. A square foot of commercial space on the street rents for $50 to $70 per month. The second most expensive retail space in the Los Angeles area is on the Third Street Promenade in Santa Monica, Calif., where retail rents average $20 a month per square foot, Luchs said.
The LVMH acquisition may have made headlines, but it doesn't compare to Chanel's deal at the end of 2015 to buy the building it now occupies on the corner of Rodeo Drive and Brighton Way for $152 million.
In August 2016, LVMH paid $122 million for the House of Bijan building at 420 N. Rodeo Drive.
Finding a space on Rodeo is tough, said Kathy Gohari, president of the merchants group Rodeo Drive Committee and the general manager of the flagship for Valentino. "When flagship stores open on Rodeo, they don't really leave," she said. Stores may move to temporary quarters when the flagships are being remodeled.
Currently, there are a handful of spaces available on Rodeo Drive. The former Hugo Boss space, at 414 N. Rodeo Drive, is being split into two spaces. Also vacant is 449 N. Rodeo Drive, which formerly housed the Paul & The Shark menswear brand. The Zadig & Voltaire space at 465 Rodeo Drive is listed as available for sublease.
Rodeo Drive is a big attraction for tourists. Walk through the enclave and you'll hear people speaking in languages from every corner of the world. But there has been criticism that tourists and locals merely window-shop on the street and make few purchases with the flagships serving as expensive billboards for major European fashion houses.
Retail analysts are divided on the business of flagships. Marshal Cohen, chief industry analyst of The NPD Group, said luxe flagship stores don't earn their keep with cash. "Flagships are not about making money but showcasing the brand. The money allocated to it often comes from the marketing budget, not the retail budget. Having a high-profile flagship at a prestigious location is one of the few ways brands can continue to showcase the essence of the brand and reinforce the full range of products not able to be displayed at retail partners," he said.
Michael Brown, a global strategy and management consultant, said marketing is a significant function of flagship stores, but it isn't the whole story.
"Retail location profitability is becoming increasingly more difficult to measure because purchases made online are often a result of a store visit. We call this the difference between 'value creation' [the visit] and 'value capture' [the sale transaction]. In a broad definition of profitability, the flagship's contribution can be measured and they can be profitable," he wrote in an email.
Selling expensive clothes can help the bottom line.
"Luxury retailers have the advantage of high price points, which facilitates profitability even when real estate comes at a high price," added Brown, who is a partner at A.T. Kearney and the author of "The Future of Shopping Centers."
Tyler Higgins, a director of global consultancy AArete, said it is crucial to have space on Rodeo Drive because of the people who shop there. "Companies may assign a value to the intangibles of being on Rodeo around other luxury brands, but they are still able to make money. Why can they be unwavering in their price point? For starters, their target shoppers are not ones who browse Amazon.com looking for rock-bottom pricing but rather ones who want the bespoke treatment that these stores provide.
"Being able to shop on Rodeo Drive drives an air of exclusivity that these brands are seeking. This exclusivity drives up the ability for them to charge $4,000, $10,000, $30,000 for bags, shoes and clothes. As long as tourists, along with other shoppers, continue to arrive, Rodeo Drive and the flagship stores will remain," Higgins said.