MANUFACTURING
Orange Coast College Launches an Apparel Sustainability Program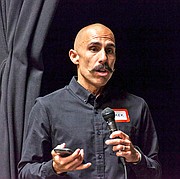 The future of the fashion job market is green, said Lauren Becker, the fashion department coordinator at Orange Coast College in Costa Mesa, Calif.
It's why her institution recently announced it will be offering an Apparel Industry Sustainability certificate program next fall. While other colleges offer degrees in sustainable design, OCC will be the first community college in Southern California to offer a standalone certificate program, which starts in September. "This is a field of growth in job placement," Becker said. "If you're paying attention to the industry, it's a must."
OCC is located only 15 minutes away from a number of action-sports labels in Orange County.
Earlier this month, the certificate program's instructor, Derek Sabori, taught a two-day seminar to introduce the program to potential students. It was filled to capacity, Becker said.
Sabori, who started Volcom's sustainability initiative more than 10 years ago and holds a master's of business administration from the University of California, Irvine, will be a principal part of the program.
He has been a part-time instructor at the college since 2005 and was Volcom's vice president, global sustainability, until 2015, when he left to start a consulting career and launch the sustainable men's yoga brand Kozm.
When French luxe conglomerate Kering acquired Volcom in 2011, Kering started an ambitious program to make its products and operations as eco-friendly as possible.
Under Kering, Sabori frequently worked with people at the leading edge of sustainability studies who consulted or worked with Kering's family of brands, including Gucci and Saint Laurent
.
Earlier this year, Kering announced it planned to sell Volcom, which said it intends to continue to embrace sustainability.
In February, Volcom was accredited as a member of the Fair Labor Association, which Sabori helped with his advice. A handful of companies in Costa Mesa and Los Angeles embrace sustainable manufacturing, including Outerknown, Vissla and Reformation.
Much of the information on sustainability studies is so new that there is not much written about it in academia, Sabori said. "This is coming straight from the industry. It's hard to find in a textbook," he said.
Students in the certificate program are eligible to learn about sustainability in a real work environment through internships at companies including Volcom. Field trips to brands working in sustainable fashion will be scheduled and speakers from those companies are anticipated to lecture.
Classes in the certificate program include "Introduction to Sustainability in Business and Fashion," which looks at the elements of sustainability, the effects of material used in the process and supply chains. Another course will be "Apparel Industry—The Environment, Ethical Business Practices and The Law."
Becker and Sabori started working on the certificate program's curriculum in September 2017 after receiving interest from students and faculty suggestions to offer more classes in sustainability. Students must take three separate sustainability classes to complete the program.
While courses about apparel sustainability are rare, demand is increasing, said Lindsay Fox, fashion instructor and department chair at Saddleback College in Mission Viejo, Calif. "The industry and marketplace is becoming more aware of the practices of sustainability, and specific companies are making this a cornerstone. We are trying to meet this need," she said.
Saddleback has run an occupational skills "award," or mini certificate, in sustainable fashion and social entrepreneurship for more than seven years. It requires 15 to 17 class units and can be completed under a year.
In addition, San Diego Mesa College is in the process of creating an 18-unit, cross-discipline fashion sustainability certificate.
Also, the University of Delaware offers a graduate certificate in being socially responsible and sustainable in the apparel, textile and footwear business. It consists of nine, one-credit courses offered online.
And the London College of Fashion has a center for sustainable fashion where a master's degree in fashion and the environment is offered to graduate students.