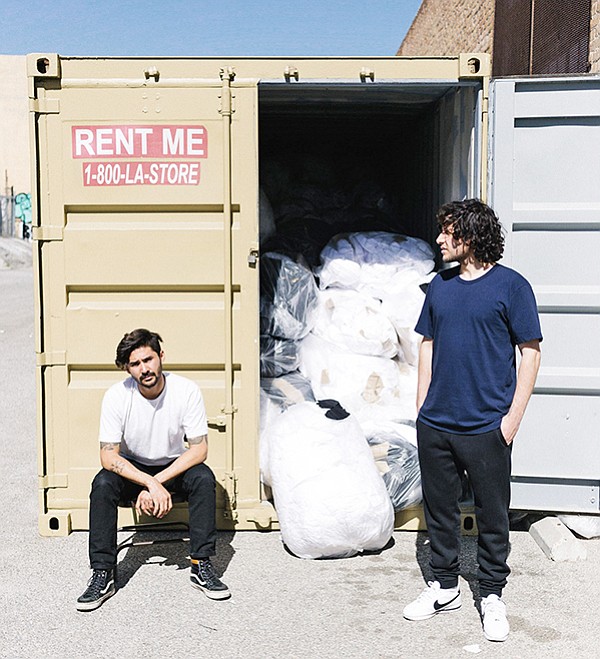 REDUCE. REUSE. UPCYCLE.
Upcycle Stands Up for Sustainable Manufacturing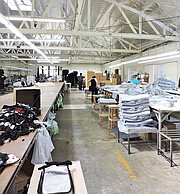 After 16 years at American Apparel, Tabitha Vogelsong and John Chung were on a mission to create a responsible apparel brand.
In February 2017, the two launched Upcycle based upon a mutual desire to reshape garment manufacturing and the perceptions by consumers about how their clothing is made. Right now, Vogelsong and Chung, the brand's chief executive, are making premium blank T-shirts as well as fleece tops and hoodies.
"I think one thing that has happened is fast fashion and people don't understand that you shouldn't be able to buy a shirt for $5," explained Vogelsong, who was the vice president of sales and merchandising at American Apparel and has the same title at Upcycle. "You should not be paying less for your shirt than you do for a latte."
The growing Los Angeles–based company has already expanded from its 5,000-square-foot headquarters on 31st Street to an additional 10,000-square-foot showroom space on East 11th Street. Its products are made in Southern California. Upcycle keeps its manufacturing local, which helps the company practice what it preaches regarding sustainability as it partners only with businesses that share its mission.
"Everything that we do from knitting and dyeing to sewing and washing is done within a 25-mile radius, so that keeps our footprint very small," Vogelsong said.
At the core of its wholesale and manufacturing business is Upcycle's focus on reused materials to create many of its pieces. Behind the East 11th Street location, a 20-foot-long shipping container sits, overflowing with two weeks' worth of scraps from the company's finished products.
Each container holds approximately 7,000 pounds of textile waste that will not be discarded in a landfill. Instead, it will be processed to produce new fabrics used by Upcycle's 100 sewers, who are able to make 100,000 pieces per week. Currently, the sewers are making 60,000 to 75,000 pieces a week.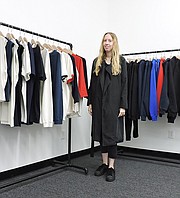 "Basically, as we're producing everything, we gather all the scraps from the manufacturing process," Vogelsong explained. "All those scraps are then upcycled back into yarn. So, really from this whole process, we're taking everything and recycling it to use wherever it's needed."
This dedication isn't reserved for Upcycle's manufacturing process but also includes convincing its partners to join the movement toward sustainability.
"They'll say, 'Okay, I'll do it, but does it cost more money?' and it doesn't," she said. "People don't know about it. It's kind of an antiquated industry where people just think waste is the norm. It goes out in the dumpster and it gets thrown away."
From dye houses that have adopted responsible waste-management practices to knitters who are now returning pallets to yarn houses for reuse, Vogelsong explains how the shift toward more-sustainable apparel production required changing longstanding assumptions prevalent throughout the industry.
"We want people to take notice. We don't care if you're a competitor or not—everybody just needs to be responsible," she explained. "We want to pretty much set the bar in the industry to show people it can be done and it can be done in the right way."
Giving new life to unwanted fabric scraps isn't Upcycle's only method of responsible manufacturing. Through using recycled water bottles and postindustrial cotton, the company in January launched its Recycle Collection—which wholesales from $7 to $10—by following a closed-loop manufacturing plan that yields yarns used exclusively by Upcycle.
Spun by an East Coast–based mill, the yarn also includes the spinner's excess postindustrial cotton. With this material, Upcycle is able to manufacture a T-shirt that comprises the equivalent of five recycled water bottles.
"The yarn is proprietary to us, and it is 60 percent RPET (recycled polyethylene terephthalate). So it's the recycled water bottles, and all that poly comes from the U.S.," Vogelsong said. "The postindustrial cotton is actually from our mill spinning its yarn. It's all the waste that comes off that nobody uses. So they took that 40 percent postindustrial cotton, and we spun the custom yarn for ourselves."
Many of Upcycle's clients hail from the streetwear segment, which serves the company's goal of representing the nontraditional, conscientious consumer. Emphasizing that its customers don't have to fit into the mold of an eco-warrior hippie or yogi to care about how apparel manufacturing affects the environment, Vogelsong wants to make sustainable clothing more approachable for everyone.
"We want to always keep LA as the backdrop of everything, and we wanted to be a little bit more forward, not that typical organic-looking, sustainable company," she said.
To expand its reach, Upcycle is incorporating the theme of responsible manufacturing in all of its messaging, such as its #AskHowItsMade social-media campaign, which launched on Earth Day, or reusable shopping bags created from recycled water bottles, which feature the words "I practice responsible manufacturing." While Vogelsong plans to expand the Recycled Collection, she is also excited about taking Upcycle's offerings beyond water bottles by exploring other recycled materials.
"Whether it's recycled water bottles or recycled anything ... the reality is everything that is polyester could really move to that world," she said. "Instead of using traditional poly, just use the RPET version."