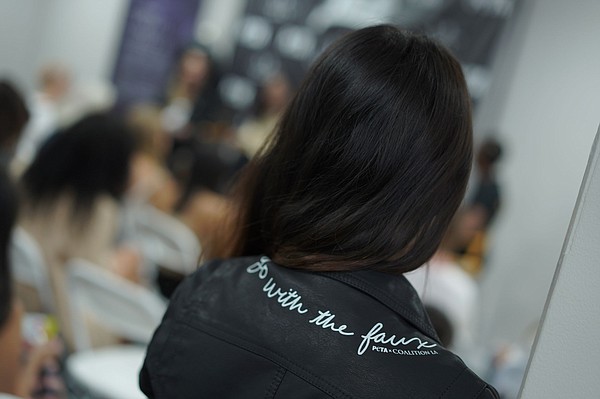 PARTIES
Coalition LA and PETA Celebrate Go with the Faux Collaboration
Womenswear brand Coalition LA joined PETA yesterday to celebrate the launch of the PETA x Coalition LA "Go with the Faux" vegan leather jacket. The approximately 52 attendees, including cruelty-free bloggers and Coalition LA's retail partners convened at Coalition LA's headquarters located in the downtown Los Angeles Fashion District to celebrate the jacket, which was released in mid-July.
"It was so amazing," Tori Alegria, who is Coalition LA's public relations coordinator, said. "The event was better than we expected. We had a lot of attendees."
While this collaboration might be new, Coalition LA's relationship with PETA and commitment to manufacturing supple vegan leather that doesn't crack or peel has been part of the brand's thread for a long time.
"We have been PETA approved for a few years now and Coalition LA has always been 100 percent cruelty free since opening our doors," Alegria revealed. "Our owners have over 20 years of experience manufacturing vegan outerwear."
In addition to last year's launch of vegan suede, Coalition LA will introduce vegan wool and faux shearling this year. At the event, Coalition LA's retail partners expressed a lot of interest, a trend that the company expects to grow after it showcases the new jacket at the upcoming MAGIC trade show in Las Vegas, which will take place August 13-15.
During an era of remaining transparent, the company was proud to hold an event that afforded the opportunity to educate its retail partners about its relationship with PETA, the practices it uses to manufacture its products and its message of remaining stylish while being compassionate.
"It's a classic, black moto vegan leather jacket," Alegria said. "It's so fashion forward and can go with any outfit. The best part about it is that it's all vegan and no animals were hurt."
A panel that included Alegra, PETA Campaigns Manager Christina Sewell, actor Daniella Monet, vegan stylist Emmanuelle Rienda and Dechel McKillian of eco-conscious boutique Galerie.LA discussed the business of compassionate, eco-conscientious fashion.
"We spoke to the importance of educating retailers and end consumers," Alegria explained. "Brands need to do their part educating the retailer by putting the PETA-approved logo out there, describing how their products are being made and just being really transparent. That will make a trickle effect."
During the event, the "Go with the Faux" vegan leather jacket was available for $56, but the retail cost of the piece is $69.99 at the PETA Catalog website.