RETAIL
Instagram and Social Media Make a Stronger Play for Fashion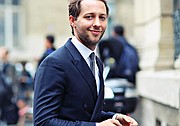 Could Instagram become the shopping mall of the future?
Recently, the San Francisco–headquartered Internet giant expanded its shopping features so that brands will not only be able to offer goods on Instagram's main feed but also be able to sell on Instagram's "Stories" feature, which is viewed by 600 million people, according to the company.
With this new feature, brands and retailers are ramping up to build a bigger presence on the social-media site, which debuted in 2010 and two years later was acquired by Facebook for $1 billion.
In the past few years, social-media companies have focused on developing their fashion business. In 2015, Instagram hired Eva Chen, a former Lucky Magazine editor, to serve as its head of fashion partnerships. It's her job to extend the social-media platform's reach to fashion designers and brands.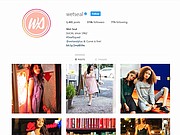 Competition in social media became more heated in June when writer and "CNN Style" host Derek Blasberg was hired by YouTube, based in San Bruno, Calif., to lead its fashion and beauty partnerships division.
Instagram's potential is building, said Ramez Toubassy, president of Wet Seal, which only sells its fast-fashion merchandise online.
"We absolutely believe in the future of this channel for selling products, especially to our female millennial consumers. At this point, conversion is significantly higher with our more traditional online marketing initiatives, such as email and search. That said, we will continue to invest in making our Instagram content shoppable in an effort to put our product where our customer spends her time."
But J'Net Nguyen, an adjunct professor of social media at the University of Southern California, said that the pivot from brand statement to sales is not always guaranteed.
"I see social e-commerce being a powerful tool. But if you are using it to boost immediate sales, I don't know if it will work every time," Nguyen said. "I look at social media as a conversation from brand to consumer that can inform, entertain and inspire. Hopefully, consumers will connect strongly to the brand and, in turn, that translates to sales down the road," she said.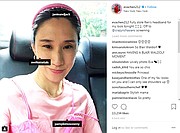 Retailers began eying social media as a major marketplace ever since Facebook started attracting millions of eyeballs about a decade ago. At the same time, social-media companies have looked for ways to help build a marketplace.
Facebook created its "Shop" feature, which allows consumers to buy items on a brand's or retailer's profile, then pay for the item on a retailer's website. Retailers offer similar services on Twitter.
E-commerce platform Shopify partners with Instagram, Facebook and Snapchat to sell products on social media, said Zabrina Hossain, a product manager for Shopify. "More than ever before, we see the shopper's journey begins with social media and digital ads for product discovery and research," she said.
Syama Meagher, of the Scaling Retail consultancy, said that some of her clients make 50 percent of their revenue from Instagram shops powered by Shopify. Some of her other clients make most of their revenue from e-commerce sites made on desktop computers.
Visuals are a focus on Instagram, where the social-media giant's members place their photos and videos on a personal feed.
Instagram, which did not reply to a request for comment by press time, offers a particularly appealing market to fashion brands. About 68 percent of Instagram users are under the age of 35, according to information released in January from Statista, a portal that aggregates statistics and studies. Instagram attracts a heavily female viewership.
Nguyen from USC said that Instagram has made a deep impact on the fashion business and how it portrays its products. Some brands have incorporated design elements that seem to pop on a smartphone or computer screen, such as T-shirts and hoodies with the Gucci logo, Nguyen said.
Social media has also increased the frequency by which trends appear. "Prior to the Internet, you had to wait for the September issue of Vogue. Now you can stream a runway show live and purchase immediately through the 'see-now, buy-now model,'" she said. "Instagram is fast and instantaneous, and in the current era, it's challenging to excite people."
Producing a shop on Instagram is not as easy as merely posting some photos. There are levels of what's cool and what's not cool, and boundaries can't be crossed, said Adam Derry, whose ADBD agency has advised brands working on Instagram profiles.
Some say posting on Instagram's main feed needs to be different than posts on the "Stories" feed. The main feed is intended to be permanent while the "Stories" feed is intended to be ephemeral and vanish after a 24-hour period. An aggressive sales pitch can damage the aesthetic of an Instagram profile.
"Instagram is something of a diary and an expression of a brand's ethos," Derry said. "Brands must balance the experience. They must balance it around the lifestyle experience and social side of the brand. You want to feel like you are having an intimate conversation. You don't want to feel that you are being sold something," he said.