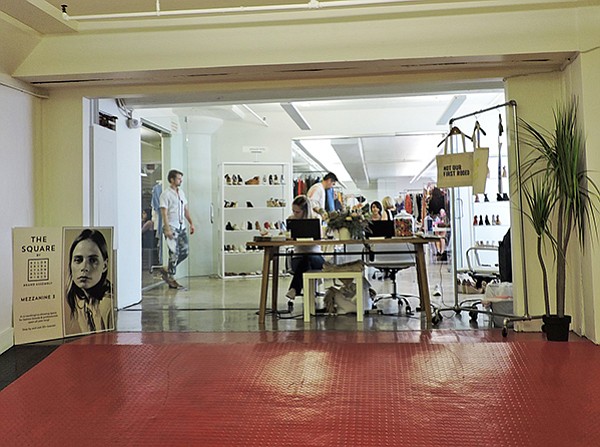 LA FASHION MARKET
Both Buyers and Exhibitors Make the Most of a Quiet Los Angeles Fashion Market
Summer is the time to be on vacation, and that seemed to be the case for buyers at the recent Los Angeles Fashion Market, where traffic was much sparser than at other shows.
The July/August event for Holiday/Resort traditionally has been slower than other fashion markets because so many retailers and store buyers are saving their time and money to attend the gargantuan Las Vegas trade shows in a few weeks, when large convention centers are filled with everything from footwear and accessories to apparel and swimwear.
Many of the buyers who showed up at the showrooms at the California Market Center were looking for alternatives to the Las Vegas shows or enjoying the special attention they could get during the July 30–Aug. 1 run of the market.
Special attention included the CMC's events team rolling out special attractions, including roaming pretzel and cookie carts that passed out free treats in the afternoon. There were also free breakfasts and lunches for preregistered buyers.
During a typical market, the BettyBottom Showroom on the CMC's third floor will see 35 appointments a day. But during markets in August, the showroom will only get 25 appointments in four days, said Ernesto Mantilla, a co-owner of the showroom.
But he said slow traffic can be beneficial for business. "It's worth doing, even if we only serve 20 customers. It's a matter of being known for customer service. It's why we get repeat customers," he said.
Other showroom owners said that business was quite good, even if the halls seemed quiet. "I was busy until the end of the day," said Fern Liberson, whose self-named showroom is also on the CMC's third floor. "I had no break."
Boutiques seen shopping at the CMC during the recent market included Ambiance in San Francisco, Burro in Los Angeles' Venice section and Boulmiche in Beverly Hills, Calif.
Those retailers who attended market were placing good orders because the economy is on a sound footing right now. Brigitte Whitlock-Seelbach of the Persimmon boutique in Berkeley, Calif., said that sales from her women's store have been good all year long.
The New Mart showrooms do double duty
The halls of The New Mart, which houses hundreds of showrooms, were quiet. Ethan Eller, the building's manager, said buyer traffic seemed to dip compared to last year's fashion market.
Showroom owners agreed. However, Vishaka Lama of Showroom Five21 said there was business written during the lackluster traffic while her showroom got ready for Las Vegas. "We were preparing for Vegas," she said of her showroom's upcoming booths at WWDMAGIC. "But we opened this really good online store."
Other showrooms at The New Mart that were working the market seemed to have a similar pace—they were preparing for the sprawling Vegas shows by making appointments with stores and reminding them about the ongoing LA Fashion Market.
Eme Mizioch of the Joken Style Showroom said the August market felt like an average day at work. There was not that extra bustle you feel during a busier market.
Mizioch said a decline in foot traffic is made up by doing business online. She estimated that 45 percent of her business is done on the Internet.
Since more people shop online, it is natural they would want to do business online, she said. "We still have old-school buyers who like to touch and to feel the clothes," she said.
Heidi Ko, product merchandiser for the New Designers Space incubator, said she believed traffic dipped because of competing shows at the Dallas Market Center, scheduled for Aug. 6–7, and Las Vegas Market, a gift trade show scheduled at the same time as Los Angeles Fashion Market.
"We still have buyers coming in and out," Ko said.
Florence Ratzsch, owner of the Lynn Girard Showroom, said quality orders compensated for a drop in traffic. "The first day was good for us," Ratzsch said. "We were up 25 percent in orders. The people coming in were serious about orders."
During the market, people saw a new, 9-foot-wide digital directory sign in the building's lobby, installed in July and listing the 700 showrooms whose names can be changed with a smartphone.
Intimate setting at the Cooper Design Space
Despite a quiet market, attendees and showrooms at the Cooper Design Space saw the event as an opportunity to fortify relationships. Whether in search of Immediates or new products for Spring 2019, many buyers arrived with an agenda.
On the mezzanine level, the independent Brand Assembly show took place with buyers showing up. The event's vice president of shows and community, Adam Eisenhut, said he was confident this year's numbers would be on par with 2017. The shift to the mezzanine level from the penthouse allowed Brand Assembly to expand its permanent space to accommodate more brands.
"We have this space, The Square. It's our permanent space where our members are located all year-round," Eisenhut said. "Since we already have this space, and it goes into market every time the building does, we might as well open up the space next door and make that available to these brands that need it."
Walking through Brand Assembly, Laura McGuire, a buyer for women's retailer Wendy Foster in Santa Barbara, Calif., admitted that while the August market is smaller, it offers opportunities to discover emerging brands.
"I haven't written anything here, but I always look to see if there is a new vendor or emerging talent," she said. "It's definitely worth it for that."
At The HNGR Showroom, owner Selena Slogar said her traffic has been appointment-based with clients arriving from California, Idaho, Oregon and Washington to place orders for Spring 2019. Seeing these clients and having them place orders now was important to Slogar because she is bypassing the Las Vegas shows in favor of traveling to New York.
"Every August, it's never crazy. It's appointment driven. The stores that we aren't seeing in Vegas, we see here," she said. "We are doing the New York Brand Assembly."
Maurissa Cannata, a sales representative for If By Sea, which had a booth at Brand Assembly, was moving Immediates and Holiday for buyers from the East Coast and Midwest regions. She noted that as a Los Angeles–based brand, she uses Brand Assembly to prepare for Las Vegas.
"It's an easy transition," she explained. "We already have everything prepared for MAGIC. Because we're LA based, it's really convenient for us to do this show. It helps us get a jump on [Las Vegas]."
Throughout the rest of the building, traffic was paltry, but buyers were able to visit specific showrooms to place important orders for Holiday and Spring 2019.
Nancy McFarland, co-owner of the Manhattan Beach, Calif., women's high-end contemporary retailer Wright's,was interested in placing orders for Holiday with a few of her vendors but noted this is not her major show.
"It's a very quiet market, and there are just a couple of people who I needed to come see," she said. "It is good for that little window if you want some newness for December and January."
Upstairs at the eighth-floor Hatch space, West Coast showroom director David Dagnino noted that traffic was slow, but it also afforded opportunities to provide undivided attention to important retailers who didn't attend June market.
"It's a little slow, but we had some of our key independent and online retailers come in today," he said. "This market has generally been a slower market, but we have a few new collections for this season that we didn't have at the last larger market in June."
Quiet at the Gerry Building
Within the halls of the Gerry Building, buyer traffic was sparse, with showrooms seeing retailers who booked appointments but not many unexpected visits. Niche brands reported a successful event as specialty retailers visited their showrooms.
At the Impulse Showroom, which carries a large selection of formal eveningwear with a focus on the handmade lace-dress brand Olvi's, Lori Marchand was happy with the August market. Despite her satisfaction with her appointments and buyers placing orders, she recognized the challenges for other showrooms.
"I've been doing great," she said. "They had these two markets back-to-back, which is too much. People were just here, and if they're not here it's because they are going to go to Vegas."
Despite the slower traffic at the Gerry Building, buyers were taking advantage of being able to view collections with attention focused on their needs.
"It's a slow market and everyone is saying that," said a buyer who wished to remain anonymous. "We can preview the lines because a lot of the showrooms just got them, and it's quite easy to do when there's not a lot of people around."
At other showrooms, traffic was busy the first two days of the show but began to slow over the final days. Despite the slower traffic, retailers were still placing orders for Fall 2018. Showrooms introducing new lines reported that these new collections helped push business.
"The traffic was down, but it was down for everybody," said Sarah Kirakossian, who works at Arlene Henry Sales. "Whoever came to see us wrote orders, and we got a new line from Greece called Ozai N Ku."