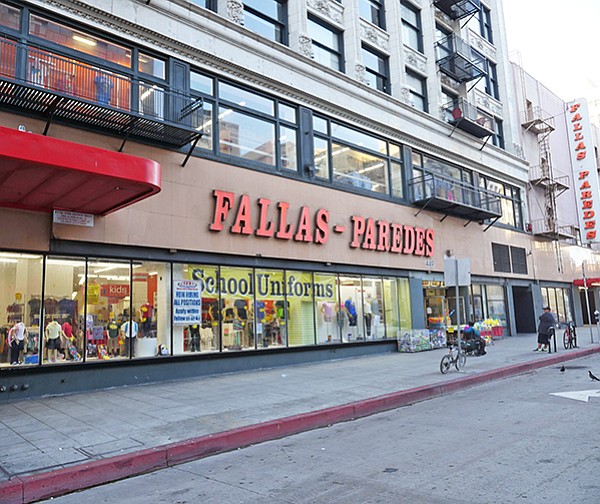 NATIONAL'S BANKRUPTCY FILING
Parent Company of Fallas Paredes and Factory 2-U Files for Bankruptcy Protection
Bargain-basement prices have been the driving force behind the decades-old Fallas Paredes store, which caters mostly to a Latino market, and its younger Factory 2-U stores.
But bargain-basement prices couldn't help National Stores Inc., owned primarily by Michael Fallas, from filing for Chapter 11 bankruptcy protection on Aug. 6 in U.S. Bankruptcy Court in Delaware.
The bankruptcy filing will help the company, based in Gardena, Calif., reorganize by closing 74 of its 344 stores in its diversified outposts, which include stores under the nameplate of Fallas, Fallas Paredes, Fallas Discount Stores, Factory 2-U, Anna's Linens by Fallas, and Falas in Puerto Rico.
Store closing sales will begin on Aug. 9.
In a press release, the company said it had ample liquidity to fund operations and has received a commitment for up to approximately $108 million in debtor-in-possession financing from its existing lenders.
"National Stores, historically a profitable company, is committed to improving its financial health and returning to profitability," said Michael Fallas, who owns 98 percent of the company. The other 2 percent is owned by Ilanit Fallas.
The company said its bottom line has suffered setbacks from some under-performing stores, which were exacerbated by severe weather in various regions, including in Puerto Rico, which was badly hit by and is still recuperating from last year's Hurricane Maria.
The company also suffered financial losses from its acquisition of 44 Conway Stores in 2014 for an undisclosed price.
Last year, the computers at the various stores in the National Stores chain were subjected to a malware attack that lasted from July 10 to Dec. 11, 2017.
The affected payment-card information may have included names, payment-card numbers, expiration dates and security codes. Because of the attack, the company said its access to its operating funds diminished.
"National Stores has been a fixture of the retail community for over 56 years, and through this process, we intend to secure our future for our valued employees, customers and suppliers," the chief executive said in a statement.
In court documents, the company said it has between 200 and 999 creditors. Some of its major creditors, all located in New York, include: Armouth International, owed $15.6 million; One Step Up, owed $10.3 million; Louise Paris, owed nearly $4 million and Seven Apparel, owed $3.9 million.
National Stores was started in 1962 by Michael Fallas's father, Joseph, in a single downtown Los Angeles store. It is known for its value-priced clothing, which often sells below $10 to $20.