FASHION
LA Fashion Week Lands a Permanent Home to Expand Its Events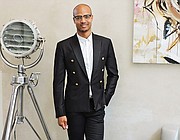 When Arthur Chipman decided to organize his first LA Fashion Week, he set out to find a venue that would be artistic but also reflect Los Angeles's heritage.
After canvassing the city, he settled on Union Station, the 1939 train station in downtown LA whose soaring wooden ceilings and massive art deco–style chandeliers weighing more than 3,000 pounds account for the venue's designation as an historic landmark.
Chipman inked a contract with the train station's managers one year before his first fashion show debuted in October 2015, and they assured him that the new air-conditioning system would be in place way before his event occurred.
One year later, the cooling system still wasn't running and Chipman had to rely on enormous 10-foot-wide fans to keep the temperature cool during that hot October.
Guests in the audience saw their hairdos pushed into gravity-defying directions. "I loved the architecture and the fact that it was a landmark," recalled Chipman, sitting inside the entryway lounge of the W Hotel in Hollywood, where he has held a number of kickoff parties for his LA Fashion Week shows. "But there was no air conditioning even though the management had assured us it would be done by December [2014]."
For his next season of runway shows, Chipman set up shop at Columbia Square in Hollywood, another historic complex that had been the home of CBS's Los Angeles radio and television operations from 1938 until 2007. This time, there was air conditioning.
Since then, LA Fashion Week has bounced around to other historic sites, such as the early 20th-century Alexandria Hotel in downtown Los Angeles and the Hollywood Athletic Club, built in 1924, where the generators for the runway lights went out during an Ashton Michael show and everyone in the audience used their smartphones to illuminate the catwalk.
But Chipman recently announced his organization has found a permanent site to stage its runway shows—the Petersen Automotive Museum, which houses a collection of vintage cars that includes a rare 1939 Porsche 64, the 1956 Jaguar XKSS owned by actor Steve McQueen and a Batmobile used in one of the "Batman" movies.
Having a permanent location saves time and money. It also allows Chipman to organize other fashion and art events that will coordinate with rotating automobile exhibits.
"I have been working with the Beverly Hills Chamber of Commerce on a whole bunch of programs, and the Petersen, which had joined the chamber, loved what we were doing, which were a lot of one-off events outside of LA Fashion Week," Chipman explained. "They wanted to connect with more millennials, and we wanted a permanent location."
Growing fashion capital
Before starting his own fashion week, Chipman had experience working as the business development director at Vancouver Fashion Week and working in conjunction with Toronto Fashion Week.
However, when he arrived in Los Angeles, he stirred up the fashion pot a bit by trade-marking the phrase LA Fashion Week, with plans to be the exclusive user of that name for his shows. "According to the city, state and federal entities, we are LA Fashion Week," he said.
LA Fashion Week is just one of several fashion events that came on the scene to fill the void left after IMG and Smashbox Studios in 2008 stopped producing semiannual runway events that rivaled anything on the New York fashion scene.
Chipman came to Los Angeles because he believes it is a growing fashion mecca that will continue to become more influential as the LA art scene grows more important and the city hosts the 2028 Summer Olympics.
"This is the consumer apparel capital of the world. California consumers buy more fashion than New York, Paris or London combined," he said, referring to a report published last year by the California Fashion Association in Los Angeles. "One of the things Los Angeles has established itself as is the leader in streetwear."
He pointed out that the Business of Fashion, an online publication, recently listed Los Angeles as the fifth most important fashion capital of the world—behind Paris, London, Milan and New York.
Los Angeles is the birthplace of several famous brands including Guess? Inc., BCBG­MaxAzria, 7 For All Mankind, True Religion, Lucky Brand Jeans, J Brand, Monique Lhuillier and Trina Turk.
But there are still so many new and struggling brands that need that runway exposure to make a name. "Finding brands to put on the runway is not difficult," Chipman said, noting his team of 25 staffers constantly look for brands generating buzz.
What happens is many of these emerging brands in LA don't have the money to put on a fashion show, whose cost at LA Fashion Week can range from $5,000 to $20,000. "We have taken a real initiative to help them find sponsors," Chipman said.
On average, about 50 percent of the designers on the LAFW runway are local and the rest are from outside of Los Angeles or the United States. "Everyone has a different objective for being on the runway. Some of the international brands are looking to LA as more of a public-relations thing or getting their clothes on celebrities or being in magazines. They may be selling in Los Angeles already or have a showroom," said Chipman, who is known for his sartorial flair, which ranges from bowties and tuxedo jackets to crisp white shirts and shiny patent-leather shoes. "For the locals, there are the ones who are more established and have their own clientele and are trying to get in front of more buyers."
Audiences at the shows vary, depending on the brand, which can invite buyers, clients, celebrities, potential customers and press to attend. "We analyze each designer's goal and we try to focus on that," Chipman said. "We had a brand called YeKim. They had a lot of athletes and musicians who were clients, and that's who they wanted in the audience."
Every brand is different. "Fashion is not a one-size-fits-all," the fashion show organizer said. "To me, it is a lot of different colors."