FASHION
A Label of Love at Erik Rosete's Art Hearts Fashion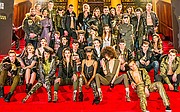 The concept of organizing Art Hearts Fashion began, in some ways, as a fluke for Erik Rosete, who for many years had been a manager at IMG, the agency behind numerous fashion-show events around the world.
Actress Amy Poliakoff of the TV show "Gallery Girls" requested his management services to organize an event. "In the process of producing that event, I had been working with a lot of designers, photographers and artists, and I decided that it would be great to create an event that was specifically about the art of fashion," he recalled.
After watching an expensive Los Angeles show that promoted the collection of designer Michael Kuluva, a childhood friend, Rosete realized the exorbitant cost of a $100,000 fashion show would be impossible for the up-and-coming artistic designers he would like to promote.
"Emerging designers and boutique brands don't have big, crazy budgets to do these shows," Rosete explained. "We're able to create the same type of outcome for them at one-tenth of what it would typically cost to show at another platform."
Art Hearts Fashion produces an entire show in Los Angeles starting at $10,000 for an event that presents designers in blocks of three or a single-collection presentation that can cost $15,000–$25,000.
The inaugural Art Hearts Fashion show at the Los Angeles nightclub 333 Live was a success, yet Rosete's work was far from finished for the season as he faced an unexpected challenge that became an extraordinary opportunity.
"The owner of the venue told me that if I didn't have a follow-up event the next month, he would never let me use his venue again," Rosete explained.
With no background in fashion design, Rosete decided to create his own line, called Mister Triple X, to maintain the business relationship. After designing an entire collection, planning his label's debut show and producing the event in only one month, he was pleasantly surprised by the audience's response.
"I decided to create Mister Triple X as my alter ego, but if it failed no one would know it was me. My plan was to not tell anyone it was me until after," he said. "It ended up being a huge turnout and everyone wanted to know who it was."
From that first show at 333 Live, the event evolved quickly, later showing at LA Live in downtown Los Angeles and Mercedes-Benz Fashion Week at Lincoln Center in New York City. Last March, Rosete produced Art Hearts Fashion at the historic The MacArthur near MacArthur Park in Los Angeles.
Due to that space closing for renovations, Art Hearts Fashion is relocating to The Majestic Theatre and The Reserve for the Spring/Summer 2019 shows, to be held Oct. 11–14. Despite his disappointment regarding the closure of The MacArthur, Rosete is excited about the growth of his fashion event, which is known for its unique spaces rich in history and ornate, artistic details.
"We're expanding our footprint in Los Angeles," he revealed. "We'll be moving to very cool spaces in downtown LA. They're connected to each other, and it's going to be a very grand event."
Art Hearts Fashion was born in Los Angeles, but the place where it was developed is only now gaining momentum as a fashion city. "The biggest challenge right now is making Los Angeles credible in the fashion community," he said. "As far as fashion goes, it is the No. 1 source of trendsetting. We have Hollywood here. Everyone in Hollywood dictates what everyone else wants to wear."
Describing Los Angeles as fashion's "hidden gem," Rosete is dedicated to using his platform, which boasts a loyal designer following. "Our secret is that our platform is run by, managed by and was created by a designer with the support of stylists, industry people and executives—and people whose passion was supporting the art of fashion," Rosete said. "We've been able to do a lot with a little."
To attain his goal of raising Los Angeles to the level of fashion capital, Rosete feels that the fashion-show model should be more experiential, giving attendees an opportunity to socialize, admire works of art and explore event spaces. He also partners with digital-media brands to promote designers on a global level.
"We livestream our shows and have so many outlets that are replaying our runway shows. We are working with Amazon Prime," he said. "This technology is creating millions of impressions for our designers."
By using the same collaborative spirit that launched Art Hearts Fashion, Rosete wants to create an environment where he and his peers support each other to promote the fashion industry in Los Angeles. "As an industry, we have a rare opportunity now to support each other to help legitimize fashion week in Los Angeles," he said.