TECHNOLOGY
The Key to Building a Better Brand Website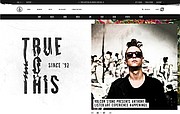 U.S. online retailers made more than $100 billion in sales during the first quarter of this year, according to Adobe Analytics' Digital Dollar Report.
But it could be a lot better, said Matt Faulk of Basic, a creative and experience agency, headquartered in San Diego.
Often, companies have a hard time reaching their business potential online because it's challenging to make their voices heard in the digital realm. Faulk said that brands and companies need to create unique statements to attract viewers and find success online.
Basic has worked on e-commerce projects for Apple's Beats by Dre headphones brand, the Nixon watch brand and, in 2017, for the Volcom actionwear brand. Faulk, who declined to specify the cost of building a site, recently talked about his work with Volcom. He shared a few thoughts on building a better website.
Andrew Asch: What do brands need to do to get noticed online?
Matt Faulk: Online is a place to be different. With brand differentiation comes value and expression. Many brands aren't willing to commit to storytelling efforts. Far too many are satisfied with the Amazon.com model of bringing the consumer to the checkout as fast as possible. When it comes to branded experiences, people want to know what a brand stands for. The dot-com experience should bring together culture and community. They should want to connect you for community and commerce; one supports the other.
AA: What steps do brands need to take online?
MF: Brands need to establish best practices, which means fast load times, mobile-friendly designs, robust search and product filtering. They are common things that are done across sites, and they need to be done well. But brands need to take it one step further.
They need to layer in the brand and bring in the brand's story. That's where video and immersive experiences come in for a differentiated look. It's emotion based. It wins hearts and minds. It's what gives people a reason to buy brands and pay a premium for them.
A brand should curate culture and be native to where consumers are. With films and videos, brands like Nike show how they are living out a brand's mission and purpose. They make a way to experience products that is memorable and captivating at their stores and digitally.
AA: Basic recently worked on the Volcom website. Could you talk about the work you did on Volcom.com?
MF: When you think about a website, e-commerce is a system for telling stories. It's about looking at the core of a brand's personality. Volcom is a major California lifestyle brand in action sports, arts and culture. We wanted to bring the brand's point of view forward and see it away from the beaches.
AA: Volcom.com features surf, skating, snowboarding and videos and music videos. Could you talk more about what you are doing?
MF: You need to focus on doing small things well and bring together details that surprise and delight.
The buttons and other elements aren't all square. They are jagged in form. We also showed little things that brought Volcom's "True to This" attitude to life in pictures of people modeling clothes on the Shop page. We also put some texture on the floor. There's duct tape on the ground. It brought grit and ruggedness to the platform. It is what Volcom should look like.