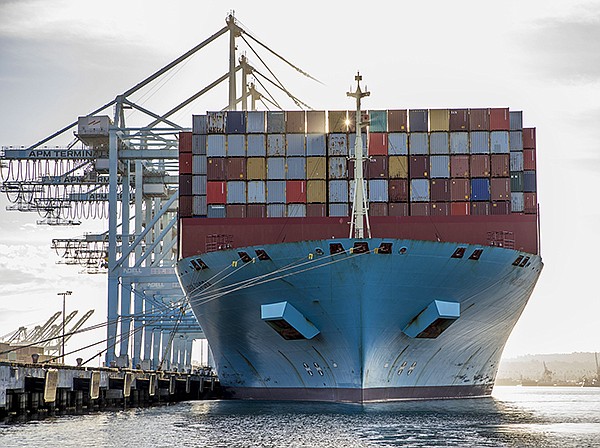 TRADE AND THE ECONOMY
UCLA Anderson Forecast Sees a Slowing Economy With Trade Causing Potential Problems
Is the r-word on the economic horizon? That is the question.
The U.S. economy has been chugging along at a brisk pace for the past couple of years as shoppers are out there buying lots of stuff and businesses are riding the waves of a tax cut that has pumped up profits.
But things are definitely slowing down, according to the recent UCLA Anderson Forecast's final quarterly report for 2018, released on Dec. 5. Some wonder if a recession might not be down the road.
UCLA's group of economists are seeing the economy downshift to a lower gear in 2019 and 2020 while the Federal Reserve continues to raise interest rates and businesses worry about trade tensions, which are playing out as a wild card for manufacturers and other companies doing business in China and other overseas locations.
Trade hit front and center after President Trump earlier this year levied a new 10 percent tariff on $200 billion in goods being imported into the United States from China. He then threatened to boost that tariff to 25 percent and include an additional $267 billion in Chinese goods, which would basically encompass everything the United States imports from that country.
Since then, corporations that rely on China for manufacturing have been scrambling to move production to other countries and regions.
"A 25 percent tariff is a big negative on the economy," said David Shulman, senior economist with the UCLA Anderson Forecast. "It will essentially raise prices and lower outputs. In apparel, you are not going to get more domestic production because it is not here anymore. Suppliers will shift from China to places like Vietnam and Bangladesh."
He noted that the trade war raises the risk of a recession in 2020, when the country's gross domestic product, which is the total value of goods and services produced during one year, is expected to see only a 1 percent increase. "With only a 1 percent increase in GDP, anything could knock you into a recession."
Shulman said larger U.S. companies currently manufacturing in China are rethinking their supply chains, which is expensive and time consuming. "You have to set up a whole different logistics system, set up different contractors and move people. It is complicated," he noted.
For now, the threat of an additional 25 percent tariff has been postponed for 90 days after a meeting between President Donald Trump and Chinese President Xi Jinping at the recent G20 summit in Buenos Aires, Argentina. "Not a whole lot [on trade] was accomplished at the G20," Shulman observed. "This is just kicking the can down the road."
Trade's importance has been front and center on the stock market's recent performance, which has been as up and down as a Coney Island rollercoaster. On Monday, Dec. 3, following the Trump administration's announcement that China was going to make several trade concessions, the Dow Jones Industrial Average rose 1.1 percent, or 287.97 points, to 25,826.43. The following day, when reports said that the trade concessions were not as extensive as first described and a trade truce may be fading, the Dow Jones Industrial Average plummeted 3.1 percent, or nearly 800 points, to 25,027.07.
While the stock market indexes are all over the place, the U.S. economy is on more solid ground for right now, according to the UCLA Anderson Forecast.
The U.S. economy grew at a healthy 3.1 percent pace on a fourth-quarter-to-fourth quarter basis. Next year, GDP growth slows to 2.1 percent, and by 2020 GDP growth is expected to dip to 1 percent.
With the economy reaching full employment, it is hard for it to expand more than it has, the UCLA Anderson Forecast economists said. "Unless we witness surprising gains in productivity, the speed limit for the economy is around 2 percent [for 2019]," the economists wrote in their report.
GDP growth will continue to slow toward the end of 2019 as the huge fiscal impact of tax cuts and spending increases taper off and the Federal Reserve continues to raise interest rates, which makes mortgage rates rise.
This year, 190,000 new jobs on average have been created every month, but that will decrease to 160,000 new jobs on average per month in 2019 and a much weaker 40,000 new jobs on average per month in 2020.
Another concern for economists is the amount of money major corporations have been borrowing because interest rates have been at historic lows in the years following the 2008 recession. Until 2015, the federal funds rate stood at 0.25 percent, which is basically zero. Currently, the rate is at 2.25 percent and expected to reach 3.5 percent in 2020.
UCLA Anderson economists noted that AT&T borrowed $190 billion to finance its acquisitions of DirectTV in 2015 and of Time Warner this year. Other corporations that have borrowed funds for acquisitions include Bayer, which completed its $63-billion purchase of the Monsanto Company this past summer. CVS is offering to buy health insurer Aetna for $69 billion.
Because of all these loans, Moody's now rates about half of all investment-grade corporate bonds as Baa, its lowest tier. UCLA Anderson economists point out that overborrowing means the slightest of economic downturns could force many of these credits into junk-bond territory.
On a more positive note, defense spending increased this year by 3.4 percent and is forecast to inch up 4.9 percent in 2019. Then it will level off with a 0.8 percent gain in 2020. This bodes well for California, where aerospace and defense contractors such as Northrop Grumman and Boeing are heavily concentrated.
Also, investment in intellectual property is forecast to see a 9 percent jump this quarter in a sector that covers computer software, research and development, and the film industry. Growth in this area will slow down, but it will grow consistently faster than the rest of the economy.
In the area of housing, construction has been rising and will continue to grow slightly. Housing starts across the country were expected to come in at 1.26 million units this year, up from 1.21 million units last year. Next year there will be a gain in housing starts with 1.31 million units and a modest gain to 1.32 million units in 2020. However, this still is not enough to keep up with demand.