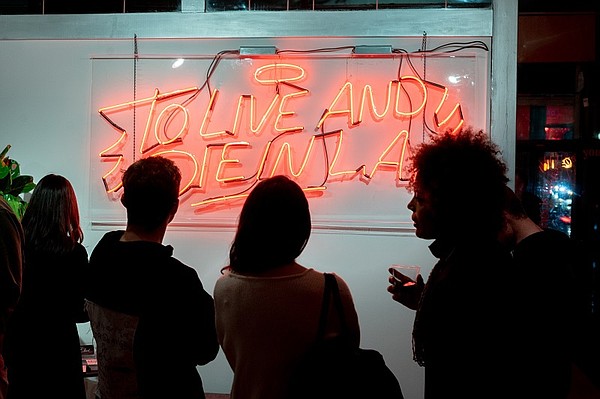 RETAIL
Downtown's Real Holiday Spirit at DTLA // IRL
Housed at the LA Athletic Club on the corner of 7th and Olive Streets, the DTLA // IRL pop-up event brought together artists, fashion brands, food vendors, wellness professionals and members of the community to begin the holiday season in downtown Los Angeles. Organized by the Downtown Center Business Improvement District (DCBID), the event celebrates the area's past, while looking toward the future. An official launch party was held Nov. 29 to showcase the space's offerings.
"We wanted to create a physical place—hence the "In Real Life" acronym—that was a real embodiment of the spirit of downtown, and an expression of the culture and commerce of downtown, to showcase those things," Nick Griffin, executive director for the DCBID, said.
The organization has a program called Pop-up Connect, through which it showcases vacant spaces that groups can lease on a short-term basis—perfect for pop-up events.
"We thought 'Why don't we do our own event to show how cool it is?'" Griffin said. "It's now evolving."
Throughout the space, visitors can admire the main art installation by Phil America, Dorian Lynde and Tre Bordon, which shows a graffiti-style interpretation of the Mike Sonksen poem "I am Alive in Los Angeles."
"It was a poem that was very celebratory of Los Angeles, but it doesn't pull punches," Griffin explained. "It has imagery that is difficult, gritty and visceral. We're not pretending that downtown is not a real city. That is what is attracting people here. They want substance and culture."
Guests can relax in the Recharge Lounge, which featured services by Massage Envy during the pop-up launch and information about the businesses and people who contribute to the community. A larger space located on the Olive Street side of the building featured an art installation by Ethan Lipsitz. This area was used as a social space during the launch, but will provide a setting for complimentary events throughout the duration of DTLA // IRL, sponsored by Los Angeles-based experience-planning service JoyMode. On Dec. 7, beginning at 7 p.m., DTLA // IRL will host a complimentary screening of the movie "Elf" starring Will Ferrell. A JoyMode to the World Holiday Karaoke night is planned for Dec. 13 at 7 p.m. and a Street Fighter 2 competition will take place Dec. 14 at 6 p.m.
In addition to the experiential side of DTLA // IRL, a retail section allows visitors to browse some of Los Angeles' emerging and independent designers. In addition to books and home goods, the space features local apparel brands including LA Original, Sub_Urban Riot, Skid Row Denim & Apparel, Made by DWC, Knice America, Kent Woman, Powatt, Nubia Natalie, Cake Denim and Pocket Square Clothing. Many of these brands include a philanthropic arm that supports the local community or the artisans who contribute to the production of their goods.
DTLA // IRL is open Monday through Saturday, 11 a.m. to 2 p.m.—unless a special event is planned for the evening. The pop-up event will run until Dec. 21.