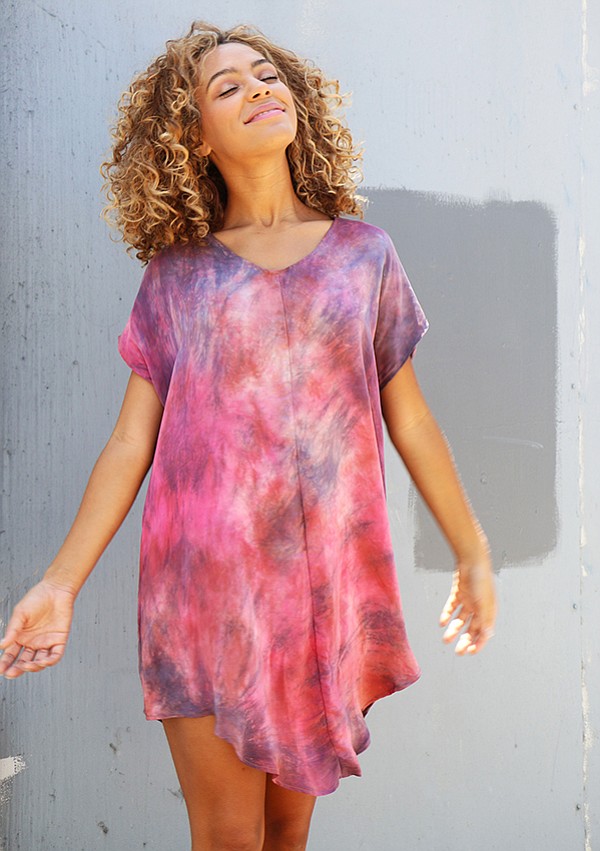 SUSTAINABLE FASHION
After Focusing on Cottage Biz, Haley Solar Branches Out With New Label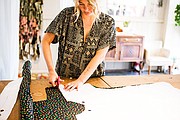 Los Angeles designer Haley Solar has been behind a sewing machine since she was 7 years old, a skill she continues to use today for the clothes she makes for her Junim Los Angeles boutique, located in Los Angeles' Eagle Rock neighborhood.
Junim is Turkish for "darling," an exotic term of endearment a Turkish friend gave her.
The Junim Los Angeles label is environmentally friendly with its use of dead-stock fabric and styles that are all handsewn in Solar's studio.
After a year of manufacturing clothes for her small outpost, the designer is branching out with a self-named label, which will incorporate some of the same elements seen in Junim Los Angeles. There will be reclaimed hand-dyed silks with mostly maxi dresses and tops manufactured in Los Angeles whereas Junim has all those elements plus offers knits, prints and outerwear. Deliveries for the Haley Solar label should start in March.
Solar believes that expanding her wholesale operation is key to her survival. "Fashion is changing so much," she said. "The retail model this year may not be the retail model for next year. It is important to have a lot of different channels to ride the storm of a changing market."
Junim Los Angeles started as a fashion line in 2012 as a reaction to fast fashion, prominent for more than a decade for producing up-to-the-minute, stylish clothes. But Solar didn't like some of the costs that went with fast-fashion styles. For example, environmentalists have blamed fast-fashion manufacturers for filling up landfills with waste.
Retailers such as H&M have answered protests by offering sustainable collections of clothing. Solar thought she could provide her own alternative to this dilemma with a boutique version of fast fashion with a sustainable edge.
She knew that she and a group of sewers could quickly supply Los Angeles–area boutiques with clothes. She decided, however, to work only with dead-stock fabric, which qualifies as sustainable because no new fabric is made. And her clothes are not being shipped out of the country. Her label is sold to U.S. boutiques such as Verde in Chattanooga, Tenn., and Ambiance in San Luis Obispo, Calif. She also offers her employees a fair wage.
In October 2016, Solar opened the Junim Los Angeles shop in a 1,000-square-foot space at 4763 Eagle Rock Blvd. Plants hanging in macramé planters divide the boutique from the studio where she designs.
Because many of the clothes are cut from hand-dyed silks, wearing the clothes feels like wearing lingerie. "I want the customer to feel comfortable. It's not skintight. It shows the female figure without being too revealing," Solar said.
Junim styles include the "Indio" pullover, an oversize, silk baseball tee with short sleeves and a high scoop neck. Other Junim looks include maxi dresses, jumpers and short-sleeve blouses. She also makes outerwear and knits using dead-stock fabrics other than silk. Retail price points range from $38 to $248.
Since her operation is small, she can't use economy of scale to push costs down. But working with dead-stock fabrics reduces many of her business costs, she said. It gives her a lot of room to produce new categories of clothing for her company. "It takes a lot of time, but I like the challenge of it," she said.