TECHNOLOGY
Grosso Moda Invests Deeper into Gerber Technology's Software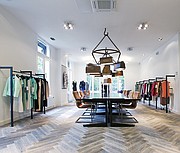 The Netherlands' Grosso Moda works with a network of apparel factories based around the globe.
The company maintains manufacturing offices in Lithuania, Belarus, Ukraine, Turkey and China, among other places. Together, these manufacturers have a capacity of making 2.5 million woven articles annually, according to a Grosso Moda statement.
With making such a large volume of clothing, Grosso Moda wants to move faster to make deliveries faster to its clients.
To increase its speed and improve communications between its far-flung offices, Grosso Moda has sought to further rely on technology to streamline the design and production planning of its software.
The Dutch company has long worked with America's Gerber Technology to support its product lifestyle management efforts. Grosso Moda recently announced it would increase its commitment to Gerber's technology services and adopt an array of Gerber's digital services.
Grosso Moda will be using Gerber's YuniquePLM Cloud and the AccuMark and AccuMark 3D programs.
The AccuMark pattern-design, grading, marker-making and production-planning software will automate some of the initiatives of Grosso Moda's factories. The YuniquePLM Cloud program will further organize the collaboration and organization of the company's overall design process.
The YuniquePLM Cloud product-lifecycle-management software serves as a central repository for data. Many companies use multiple Excel spreadsheets, email or tracking documents to manage different stages of product development. Gerber believes that these companies can lose precious time and even the momentum of the initiative if people working on a project cannot communicate in a central place.
"We have enjoyed a long, prosperous relationship with Grosso Moda and are excited to add AccuMark 3D and YuniquePLM Cloud to its mix of Gerber products," said Bill Brewster, vice president and general manager, enterprise software solutions at Gerber. "We think Grosso Moda will be a great example of the power of integration and digitalization."