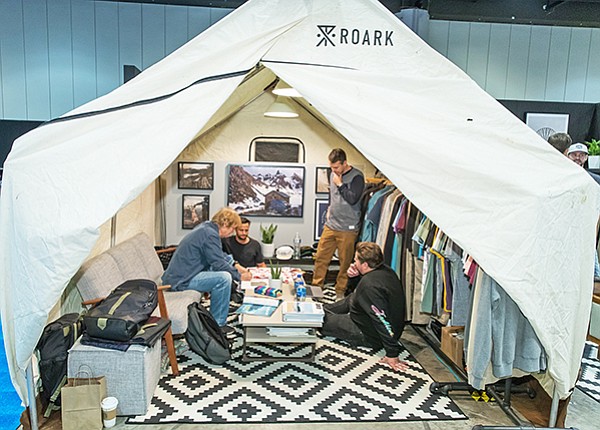 SURF EXPO
Surf Expo Ends on a High Note With Fair Weather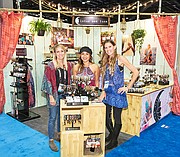 ORLANDO, Fla.—What a difference a few months make. Last September, the Surf Expo show was disbanded after one day when Hurricane Irma walloped Florida and parts of the East Coast.
But at the recent Jan. 25–27 event at the Orange County Convention Center, it was business as usual. Business as usual took the form of ukulele players, a reggae band, a skate park, a coffee bar, multiple fashion shows and surfboard-shaping demos.
While registration congestion and parking availability varied from hour to hour, exhibitors kept busy with a diverse group of buyers that included everyone from luxury resort shops to stand-up-paddling outfitters.
The show attracted buyers from Hawaii to the Caribbean and from Costa Rica to Maine, show organizers said. Attendees previewed collections from more than 1,400 brands that included categories such as swimwear, resortwear, surf and skate apparel, and accessories lines—plus a new "Bluewater" section catering to "inshore and offshore apparel and accessories" retailers and grounded by popular crossover apparel lines such as the Jacksonville, Fla.–based apparel line Salt Life and outdoor-equipment brands such as Yeti.
The new section gave energy to the growing travel niche, said Salt Life's Dusty Walker. "We just feel huge growth in the lifestyle and novelty tourism market. Families that used to be in the $40,000 bracket are doing better now and visiting more destinations near the water." As a result, he explained, the brand's entire collection is doing well, including its relatively new foul-weather-gear line.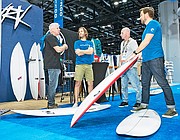 Product offerings seemed to mirror this diversity with collections designed to suit diverse demographics. Standout women's swimwear trends included crochet bikinis (Beach Joy) and cover-ups, off-the-shoulder silhouettes (Raisins), scuba-inspired piping and cropped rash guards (Body Glove) and pattern mixing (Gottex), as well as ethnic embroidery (Nanette Lepore). Everyone had ruffles.
Miami-based newcomer Lateen Style, founded one year ago by 23-year-old Daniela Restrepo, featured hand-beaded bikinis and one-pieces that retailer Mati Vazgiel said are the perfect addition to his Fort Lauderdale, Fla., boutique, Heart of the City. "We try to cater to the 'edgy' shopper looking for something different," he said. "The handmade quality definitely appeals to the yachting and cruise customer. They live in a certain style and want to wear something different from everyone else."
A common theme in juniors and women's sportswear lines was loose femininity. Poet and bell sleeves and ruffles in muted and patterned knits and breezy cottons dominated the scene, including Lucy Love and One the Land. For men, boardshorts and trunks included an emphasis on botanical prints and tribal patterns (O'Neill) as well as solids and many pieces in shorter lengths.
Coolibar, based in Minneapolis, combined both technical features such as ultraviolet-ray protection with fashion-forward silhouettes and hues for women, men and kids. The label's latest collections attracted buyers from a range of retail markets, including Deep Six Watersports in Vero Beach, Fla., and The Ritz-Carlton Orlando, Grande Lakes.
"We had many types of retailers stop at the booth, [including] golf clubs and sunglasses shops, paddleboard stores, boutiques, resorts, et cetera," said Mercedes Munoz, Cool­ibar's international sales representative. "That is the great thing about Coolibar. We cater to a large group of retailers. Surf Expo is one of our busiest shows, and I do believe that is because so many types of retailers attend."
Sustainable and socially responsible brands continued to be strong at the show. Dumpster Diver, a 2-year-old, Santa Rosa, Fla.–based line of sustainable tees woven with recycled plastic, drew attention for designs promoting the brand's own "Beach Blonde Ale" craft brew and private-label wine as well as its "Beach Happy" theme.
Jody Mosley, Surf Expo's operations manager, said the show selectively builds its roster of exhibitors, creating a rolling collection of new resources that attracts retailers eager to pinpoint the next bestseller.
New show entry S.L. Revival Co., a North Carolina–based line of caps and tees, touched base with both old and potentially new accounts, said Brand Manager Katie Triplett. "We had a ton of retailers interested in our line that we will get in contact with in the next week or so," Triplett said.
She said the 5-year-old line gained exposure to stores she doesn't normally see at other trade shows, including buyers from New England, Montana and Michigan. "Those retailers were literally running from one appointment to another, saw our products and handed us their business cards asking for us to get ahold of them after the show," she said.