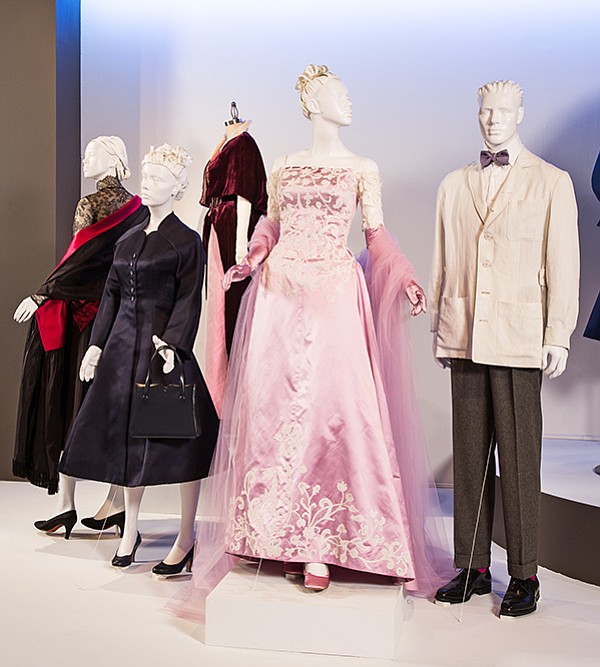 OSCAR MATERIAL
FIDM Unveils Academy Award-Nominated Costumes and Other Movie Attire at its Campus Museum
More than 800 people from the film and fashion industry showed up for the Fashion Institute of Design & Merchandising's unveiling of an extensive exhibit of costumes seen in movies released in 2017.
All five movies with Oscar-nominated costumes were among the 125 pieces from 26 films on display at the downtown Los Angeles museum gallery. The exhibit runs until April 7.
This is the 26th year that the fashion design school has organized this exhibit, which kicked off Feb. 3 with a Saturday-night cocktail party held inside a large outdoor tent inside the adjacent Grand Hope Park.
In attendance were two Academy Award–nominated costume designers: Mark Bridges, the costume designer for "Phantom Thread," and Luis Sequeira, the costume designer for "The Shape of Water."
Other Academy Award–nominated costumes on display were from "Beauty and the Beast," "Darkest Hour" and "Victoria & Abdul." But the vast museum is also displaying costumes from numerous other films, including "Dunkirk," "Blade Runner 2049," "The Greatest Showman," "I, Tonya," "Murder on the Orient Express," "Battle of the Sexes" and "Wonder Woman."
The woman behind putting the exhibit together is FIDM Museum Director Barbara Bundy, who said it takes about one year to organize the extensive collection. As soon as one exhibit is nearly completed, she is on to the next year. Her research starts by attending the current year's selection of movies, analyzing the costumes and trying to figure out which costume designer will be nominated for an Academy Award. The nominees are not announced until late January, which is when the FIDM exhibit is pretty much wrapped up.
In making her selections, Bundy said she listens to the buzz about the Oscars to try to make sure she has all five Academy Award–nominated costume designers. "The worst we have been at is four out of five," she said.
She remembered when she tried to get the Oscar-nominated costumes from "The Devil Wears Prada," but they immediately were put up for sale on eBay. "The only thing we could get were the Manolo Blahnik shoes," she said.
Nick Verreos, a fashion designer who is also a FIDM graduate, teacher and spokesperson, said the incredible costumes play an integral part in each movie. "For the five nominated costume designers, it is almost like they are a supporting actor in the movie," he observed.
The FIDM museum exhibit, located at 919 S. Grand Ave., will be on display from 10 a.m. to 5 p.m. on Tuesdays through Saturdays.