As of Thursday, February 8, 2018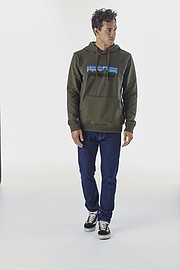 Patagonia has made headlines with its unique mission of being an activist company.
Last year, the Ventura, Calif.–based outdoors clothier sued the Trump Administration over scaling back public lands in Utah. It also led a push to move the Outdoor Retailer trade show from its longtime home in Salt Lake City to Denver. The lobbying for a new city was Patagonia's protest against Utah Gov. Gary Herbert's efforts to scale back public lands at the Bears Ears and Grand Staircase-Escalante national monuments in Utah.
With activism in mind, Patagonia recently introduced a new collection of clothes that don't harm the environment to spread the word about another one of its central missions—saving the earth.
With little fanfare, Patagonia in January introduced Uprisal at the Agenda trade show in Long Beach, Calif. Uprisal is a four-item, Fall '18 collection of light crewneck sweatshirts as well as a hoodie for men and for women.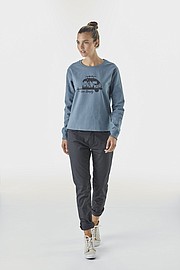 Uprisal sweatshirts are made of recycled cotton, recycled polyester and a bit of elastane. Because it is using recycled materials, Patagonia estimated that it uses 163 fewer gallons of water than vendors making sweatshirts out of new material.
In addition, Patagonia is counting on Uprisal's graphics to introduce the brand to those who may not know about the company's activism in the environmental arena. Graphics include the veteran Patagonia logo and featuring Mount Fitz Roy on the border of Chile and Argentina. Another graphic features a retro-style camper with the logo "Live Simply." The collection offers more than five additional graphics and comes in 10 different colorways.
Corey Simpson, a Patagonia representative, said the items with graphics often make up a consumer's first Patagonia purchase. "It's a way to start easy. They have access to a product that sells for $65," Simpson said of the graphic-driven Uprisal. Hoodies retail for $79.
The brand—also known for its climbing gear, jackets and surfing wet suits made of eco-friendly products—also hopes to introduce more people to recycled fabrics. "You have to be aware of what it means to use new products," Simpson said. Virgin materials have a real consequence for climate change. If you can buy quality goods out of recycled content, you're getting a win-win."