MANUFACTURING
Mad Engine Acquires Mighty Fine for Fourth Acquisition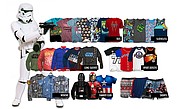 Mighty Fine, a mostly juniors and children's apparel maker based in downtown Los Angeles, has been acquired by Mad Engine. Terms of the deal were not disclosed.
Mighty Fine will continue to operate as a separate division with cofounder Patty Timsawat joining the Mad Engine team and cofounders Guy Brand and Stacy Brand leaving to pursue other opportunities, a Mad Engine executive said.
This is the fourth acquisition in the last year for San Diego–based Mad Engine, a licensed apparel company that has worked with Marvel, Star Wars, Disney and Nickelodeon.
In February 2017, it acquired Xtreme World Inc. A month later it bought Lifted Research Group, a popular Irvine, Calif.–headquartered urban streetwear brand, and in May it purchased Neff Headwear, based in Camarillo, Calif.
Acquiring Mighty Fine allows Mad Engine to contend in the juniors apparel space, said Danish Gajiani, Mad Engine's chief executive officer. "This acquisition comes at a critical time as the retail landscape is constantly changing and our customers are expecting impeccable design and execution capabilities from their suppliers," Gajiani said.
Mad Engine was founded in 1987 and has grown to become a global apparel wholesaler of licensed, branded and private-label apparel. Mighty Fine was launched in 1997 and built upon a strong design sense with its approach to pop culture.
RELATED STORIES