As of Thursday, February 22, 2018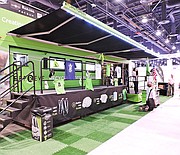 Curtains around the edges of the Sourcing at MAGIC show marked the boundaries of a smaller exhibiting area at the Feb. 11–14 event at the Las Vegas Convention Center.
With Chinese New Year starting on Feb. 16, two days after the show closed, that meant many Chinese exhibitors decided to remain in China to celebrate the holiday with their families. Organizers estimated that participation by Chinese companies was down as much as 25 percent.
Still, there were hundreds of Chinese apparel and textile companies that didn't want to miss the opportunity to pick up new clients. Xie Lihua and Coco Wang were exhibiting for their ninth time at the Sourcing show, representing Shaoxing Tainyun Garment-Making Co. "We're here to meet all our old customers and meet some new good customers," Wang said, noting that the show was a little slower than in the past.
About 60 percent of the company's apparel exports go to the United States while another 20 percent is shipped to Europe and the rest to South America. Some of their larger customers are TJ Maxx, Ross Dress for Less, Nordstrom and Macy's.
David Chen, a manager for Zhejiang Zhongda Novotex Co. in China, was at his seventh Sourcing show. "We've seen many people at the show," he said. One company representative who dropped by was from Picadilly, a Canadian label founded in 1975, which gave Chen hope for some good sales.
Raju Subbarrow from Noida, India, was exhibiting for the fifth time at the show. His Shri Ram Exports does many styles, but the collection he brought with him was his Western-wear shirts with different fabrics and treatments. It was years ago at the show that he met Skully, which has been selling Western wear since 1906. They are now a client. "Skully doesn't want to come to India, so I am here," Subbarrow said.
This year, Sourcing at MAGIC focused on automation and the microfactory as well as technology and 3-D printing. Special sections were carved out for a Denim District and a Fabric Zone.