As of Thursday, February 22, 2018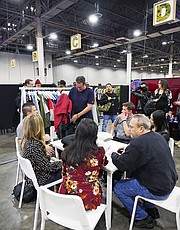 Vendors at the Feb. 12–14 run of the Agenda trade show at the Sands Expo and Convention Center reported mixed results for the three-day event.
Executives for the Champion brand said that buyer traffic was busy on the first day of the trade show. On the last day of the show, Josh Kameo of XRay Jeans said buyer traffic was diverse enough to make it worthwhile for a contemporary brand such as XRay to exhibit its jeans and outerwear at a trade show historically focused on streetwear and action-sports styles. Traffic was even with last year's February show, Kameo said.
Some Agenda veterans said that changes in the fashion business contributed to a drop in traffic at the recent show. For the past few years, e-commerce has been on the rise and wholesale business has declined.
The result has been lighter retail traffic at trade shows, said Jeff Staple of the Staple menswear collection. "We might see five new accounts at this show. Do we need to pay six figures to see five new accounts?" Staple said, questioning the cost of buying booth space and traveling to Las Vegas for the show. "And we may not close all of the accounts."
The speed of e-commerce also can undercut the wholesale business. Staple said that inventory sells out through e-commerce business long before trade shows even start.
Josh Fishel, sales manager of the Brooklyn Projects, said that most retailers order online and the value of trade shows lies in networking. "It's more about seeing buyers you only see through emails," Fishel said.
Ahmed Jouni, owner of the Raised in Los Angeles brand, which has a boutique in downtown Los Angeles, shopped Agenda and the Project trade show, which took place at the Mandalay Bay Convention Center. He also said that buyer traffic seemed lower than it had in previous years.
In the past, retailers had to make appointments to see new fashions in a booth. Not this season. "Dealers were sitting alone in their booths looking for buyers," Jouni said. He ordered fewer goods this season because nothing stood out and there were no must-have items on the trade-show floor.
But he did anticipate going to future trade shows in Las Vegas. "There's always something," he said of the sprawling collection of brands at the shows.
The recent Agenda show marked the last trade-show run by Agenda founder Aaron Levant. At the beginning of the year, he announced he would be leaving the trade show he founded in 2003 to start some new entrepreneurial ventures.