TRADE SHOWS
Imagination Blossoms at WWDMAGIC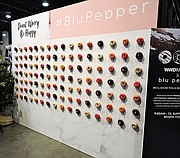 Creativity was thriving at the WWDMAGIC show, held Feb. 12–15 at the Las Vegas Convention Center.
Entering the vast hall is like attending a series of parties filled with clothes. Exhibitors had creative booth designs and were always thinking of clever ways to reel in customers. Blu Pepper, a label designed for the young, bohemian-influenced woman, set up a wall of donuts hanging on pegs near its booth and invited people to grab a donut and have a cup of coffee.
Other booths were serving up popcorn and making chocolate-chip cookies. Hip music played throughout the show.
Michael Kye, a regular exhibitor at the show, had a vibrant booth for his Miley + Molly young contemporary label, which always takes a space near the front. "This show has been awesome for us," he said. "It has been slow for some of my friends, but people are now familiar with the brand and we have a consistent location."
He said retailers seemed to be riding an upbeat wave and were interested in his wholesale prices, which range from $8 to $15. "We hear from stores that we are their margin makers," he said. "One positive note has been people are buying in January and February instead of waiting until early spring."
Not far from the Miley + Molly exhibit area was the Kori America booth, another Los Angeles young-contemporary label. Fred Hong, the trade-show manager, said his average orders were up 20 percent this year over last year. "If they had a good holiday season, they are working with higher budgets," Hong said.
An attractive selling point for his brand was that wholesale prices ranged from $11 to $18.
One discontent exhibitor was Jay Lee, the sales manager for Blush Pink, who had a booth toward the back of the main exhibit area. "This is our first time here, and it has not been good," he said. He was going to make sure that he had a booth next time in a busier area with more foot traffic.