As of Thursday, February 22, 2018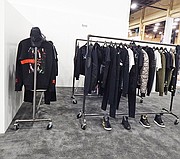 Tucked away from the chaos of other show areas, The Tents in at the Mandalay Bay Convention Center in Las Vegas offered a more refined buying experience for selective men's retailers who searched for pieces appealing to a discerning clientele. Among the brands showing at the Feb. 12–14 show, the consensus was that retailers were interested and investing in these heritage-caliber clothiers.
"What we've found is they're product driven; they're really merchants. They have a very old-school mentality of finessing the merchandise," said Matthew Singer, who was showing his line, M. Singer. "The show has been phenomenal. In general, between the Project shows and Chicago, we've picked up close to 20 actual retailers this season, and we picked up close to 30 last year, which is pretty great."
As exhibitors of luxurious labels led clients through their collections, retailers wanted to take their time making choices that would ensure the satisfaction of their customers.
"Seeing what is new and getting a feel for what our client base will like makes us sure we bring in the right items for them," said Kelvin Robertson, president and chief executive officer of premier men's clothing store Karsons of Dallas, who also made note of the show's location by saying, "It's separated, but that is not necessarily a bad thing."
At the show, exhibitors were seeing clients from different regions, including buyers from outside the United States. For his first time at The Tents, RH45 owner Josh Lanyon felt that the experience was extremely productive, as he met with retailers from the United States, Germany, Hong Kong, Japan and Canada.
"There's been a good feeling here. I think it's been pretty positive. I think there is a positive attitude at the moment. I think the feeling is pretty good. If, obviously, they think something is beautiful or special, then they think their customer is going to think it's beautiful and special; therefore, they're going to buy it," he said.
One consistent trend throughout The Tents was the shift from formal luxury to luxe comfort. New lines are investing in quality fabrics, expert tailoring, exquisite finishing and fine details for comfortable pieces such as T-shirts, shorts, jeans, Henleys, polos and parkas.