TRADE SHOWS
OffPrice Unveils a New E-trade Show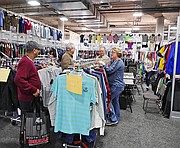 At its recent Feb. 10–13 event, the Offprice show reported a slight dip in exhibitors for the organization's 47th show at the Sands Expo and Convention Center in Las Vegas, but vendors said that didn't affect business, which was booming.
"It was a fantastic show," said Eli Pirian, the owner of Baciano, a Los Angeles–headquartered manufacturer of sweaters and outerwear. "I had customers placing large orders at the very end of the show."
While the size of orders from some retailers declined compared to previous Offprice shows, orders from new customers made up for the shortfall, he said.
Steve Krogulski, Offprice's chief executive officer, said 475 vendors exhibited at the recent show compared to 500 vendors last year. Attending the show were major off-price retailers including Ross Stores Inc., CitiTrends Inc. and Gabriel Brothers Inc.
Offprice e-tailers shopped the show as did hospitals, school districts and retailers, including Amazon.com and The Vault group of boutiques, headquartered in Laguna Beach, Calif.
"I like the Offprice show because it gives me an opportunity to purchase accessories for less," said Gila Leibovitch of The Vault. "You can find all of the same stuff here as you can at the other shows. You can find lots of basics at this show, such as tees, coverups, basic dresses, socks and scarves. They even have a very busy cash-and-carry section, which means you just buy it there and bring it home ... no minimums."
Off-price deals are a help in a highly competitive retail market, Leibovitch said. "Business is getting tougher each year," she said. "However, the trick is to get good deals and offer them to your customer. Everyone wants a deal and a great experience."
The past decade has been a boom time for off-price retailers. Major discount retailers have been opening scores of stores across the country. In 2016, prominent market researchers The NPD Group released a study showing that two-thirds of Americans shop at off-price retailers.
Krogulski plans on extending the reach of the show. On Feb. 10, he unveiled an online market for the show at www.offprice365.com. The business-to-business e-market will be open to vendors who exhibit at the physical trade show and retailers who attend the show.
Retailers who do not attend the physical show can buy subscriptions to the site, Krogulski said. "Our community can host sales almost every day of the year," he said.