As of Thursday, February 22, 2018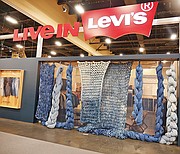 Spreading over the sprawling show floor of the Mandalay Bay Convention Center, a wide variety of menswear brands exhibited their Fall '18 looks at Project and The Collective during the shows' Feb. 12–14 run in Las Vegas.
Clothes ranging from underwear to tuxedos as well as apparel for almost every activity were exhibited at the two massive shows. More than 350 brands exhibited at Project, where denim remained an important anchor, with brands such as Levi's, Paige and AG showing their latest work.
In a first for Project, apparel and fashion from Montreal were showcased in a new section called Mmode. It took up 1,200 square feet of space. Looks ranged from activewear to contemporary looks, said Eric Wazana, president of Yoga Jeans, one of the brands that exhibited at Mmode, and president of the Apparel Québec trade group.
The 3-year-old Collective show was devoted to a range of young men's fashions, including camouflage clothing and licensed apparel, which featured the images of superheroes. Hip-hop star Ghostface Killah made an appearance at The Collective, where his brand Cherchez La Ghost had a booth.
Making its debut at The Collective was Los Angeles–based Cotton Heritage. The brand showed new looks featuring its oil washes, burnout shirts and an extended collection of women's looks.
Groups coming by the Cotton Heritage booth included concert producers Live Nation, Sierra Nevada Brewing Co. and entertainment conglomerate Warner Bros. "It exceeded our expectations," said Ken White, the brand's vice president of sales.
Fashion socks turned out to be a big deal at both the shows with vendors saying they saw more brands selling socks at the events this year than before. Eric Martin of the Los Angeles–headquartered Park Showroom debuted the showroom's first sock lines, Sock It Up and Oooh Yeah Socks at Project. "Stores tell us that it's the easiest thing to sell," Martin said. "It's an easy buy and an easy gift."
Harold Robison, founder and chief executive officer of sock vendor Pacific Manufacturing, said that the value of socks has increased in recent years. Previously, consumers spent $12 for a sock five-pack. Now they are willing to spend that same amount on a single pair.
This year, a number of companies at Project introduced some new concepts and labels. High-end jeans brand Robin's Jean unveiled Robin's Red Label. It was a diffusion line of jeans and tees from the Los Angeles–headquartered brand founded by French designer Robin Chretien.
British-based brand Ishu made its North American trade-show debut at Project, said Saif Siddiqui. "We're in the middle of some of the biggest brands in the world, and we still made a lot of noise," Siddiqui said.
Men's brand Lira made a return to Project after a five-year absence, said Lira founder Todd Kellogg. "Buyers are more serious," he said of the show. "People are still being cautious."