As of Thursday, February 22, 2018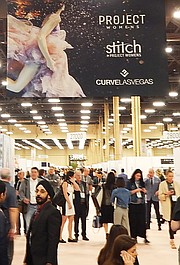 Throughout the Project Womens space at the Mandalay Bay Convention Center vendors felt a strong sense of optimism as they showcased their pieces and fielded orders from retailers who were ready to buy yet made selections carefully. Many exhibitors at the Feb. 12–14 show in Las Vegas observed retailers who would explore the area and, if the line was right, return later to commit.
"Retail in general is just trying to find new, fun things that aren't too expensive. Something exciting," observed Diane Davis, an independent sales representative for LAmade, a contemporary fashion label.
This demand for unique pieces was confirmed by buyers who were exploring booths along the show floor. To set apart their offerings from the competition, representatives from the retail section of the Multnomah Athletic Club in Portland, Ore., searched for lines that would excite clients and secure their relationships.
"It's important for us to keep things new and fresh. Definitely keep with the staples and labels that have a following. Something will drop off and then we have to replace it but not become boring," said Pete Jeter, assistant buyer and retail coordinator. "Lines look good this year."
Tonya Mitchell, a buyer and manager of the club, was looking forward to doing business with brands from the show—if they could adhere to trends while adding distinctive details.
"There are other shows that I go to also. For fashion, everyone is doing the same thing but in a slightly different way, so I like to look before I confirm orders to see who executed it better than someone else. Here, we've only placed probably four or five orders. The rest, I have notes and when I go home I have to see how much I can afford and am open to buy."
California-influenced lifestyle brand Bella Dahl has a unique approach to its retail partnerships, said Chief Executive Officer Kerry Jolna. "We are very careful about where we represent our product," he said. "We make sure that the specialty stores are all protected, that they are not over-distributed. If you buy it in a particular town, we don't sell it to somebody else."
With this approach, it also allows bricks-and-mortar retailers to build demand. As this traditional retail presence continues to grow, vendors are noticing a new attitude from certain buyers.
"We're seeing a Main Street coming back again. People are talking about community. We feel it is very important to reach out that way, and I don't think they are as afraid of Amazon as they were before," said Steven Millman, Bella Dahl's vice president of sales.
Though the show was abuzz with buying and selling, Project Womens organizers encouraged breaking from business to unwind in the Love Lounge for a bit of fun, such as the launch of BB Dakota's loungewear, which was celebrated with complimentary cappuccinos and a visit from the Instagram star canine Tuna Melts My Heart.