TRADE SHOWS
Womenswear in Nevada Keeps the Beat Steady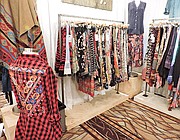 This was only the second time that the Yak & Yeti label exhibited at the Womenswear in Nevada show Feb. 12–15 at the Rio All-Suite Las Vegas Hotel & Casino.
But Satish Bhattagchan, who previously has exhibited at WWDMAGIC, thought it would be easier for retailers to make their way to his booth to find the tunics, tops, dresses and backpacks that make up his brand. The show is known for easy-to-navigate ballrooms and free box lunches provided to registered attendees. "At this show, there are always a lot of buyers and exhibitors," said the native of Nepal, whose company is based in Torrance, Calif.
He was seeing retailers from all over the country—the Midwest, the Northwest, California, Alabama and Texas. "We have been selling a lot of tie-dye goods," he said. "We always try to do something with some handiwork in it."
Retailers were buying, but he didn't believe they were spending any more than last year.
Shelly Tolila of Lola P. likes the WWIN show, organized by Urban Expositions, because it is one of the few shows in Las Vegas for misses apparel. "A lot of my stores don't want to go to New York to go to the misses shows there," she said. "So we have had a great show with repeat customers. Stores need goods right now."
For Natalie Modugno, senior account manager for Benjamin International, a line of new-age products and apparel, the show felt a little slower than in past years. "We used to make the whole cost of the booth for this show on the first day," she said. "But this year, that isn't happening." She noticed that orders were smaller this year than last year.
At the Lindi by Aria Collection booth, a line of apparel from Los Angeles, sales rep Margaret Cox said orders were slightly up from last year. The line, however, was having a big success with its newsprint jacket, which the label brought back after a three-year hiatus. It is water repellant, reversible and wholesales for $69.
RELATED STORIES