TRADE SHOWS
Agenda Founder Leaving Trade Show
Aaron Levant, founder of the Agenda trade show, said that he will be leaving the streetwear-focused trade show to work on entrepreneurial projects outside the world of fashion and trade shows.
"I've spent the majority of my adult life doing this. It's been an amazing journey. I'm super excited for everything I've done. I'm grateful. But I'm always pressing myself to continue learning and challenging myself. Unless I want to become the CEO of a major trade-show conglomerate, which I'm not sure that I aspire to do, I look for a new challenge to learn something new. That's a lot of what the decision comes down to. Now I'm going to start from the ground up with something new," Levant said during an interview in the Agenda office in downtown Los Angeles.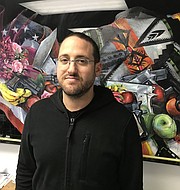 Levant, at the age of 19, started Agenda in 2003 as a trade show attended by a handful of emerging brands. Fifteen years later, more than 1,000 brands exhibit at the biannual Agenda in Long Beach, Calif. The company also runs a biannual show in Las Vegas, which was started after Levant's company was acquired by Reed Exhibitions in December 2012.
Hervé Sedky, Reed's regional president for its Americas division, said that Levant will officially leave the company at the end of February. "We are excited that he has agreed to remain with Reed Exhibitions as an adviser on the fashion and festival businesses," Sedky said. "We will greatly miss his genius, his innovation and his energy."
The Agenda office will remain headquartered in Los Angeles. Until a new group leader is hired for Agenda, the Agenda team will continue to report to Sedky.
While working at Agenda, Levant tried to change the typical model of a trade show. In July 2017, he started Agenda Festival at the Long Beach Convention Center in Long Beach. It's a consumer day following the two-day Agenda trade show.
At the festival, people look for exclusive fashions at pop-up shops, browse art galleries, dine at food trucks and listen to hip-hop and rock performers. He said 15,000 shoppers attended the inaugural Agenda Festival.
In a separate project, he started ComplexCon, which produces a similar mix of music, art and brands often selling exclusive products, such as high-end sneakers. The annual event debuted in November 2016 and is produced by Reed and media platform Complex. Levant estimated exhibitors made more than $20 million at the 2017 ComplexCon and 50,000 people attended the event.
Levant did not go into details about what his next step would be. However, he has worked as an investor in food and beverage labels. He serves on the board of House Beer, a Venice, Calif.–based beer company, and he recently invested in Truff Hot Sauce. In addition, he owns two art galleries on Los Angeles' Fairfax Avenue—The Seventh Letter Gallery and the Known Gallery.
But Levant believes there is still a lot of opportunity in the area of fashion trade shows. "It's a huge industry. By no means is it going anywhere. Even if it tapers down 10 percent, it is still enormous," he said.
Still, the business of fashion is changing rapidly, and trade shows need to change to serve them. Levant credits his success to a willingness to change with a fast-paced market and never quitting. He was willing to live with his parents until he felt comfortable enough with the company's success to buy his own house in Agoura, Calif.
"I kind of went until it was successful. There was no cut-off period," he said of his formerly privately run company. "I had a better understanding of the market and where the market was going and consumer trends. I can speak with authenticity. I was the age of the target consumer for the majority of the time when I was running this company. Even now, I'm still 20 years younger than anyone else who has a similar job to me." ●
RELATED STORIES