SWIM/SURF
Free Bella: Sustainable Swimwear at a Reasonable Price Point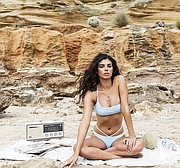 Francesca Lagudi was still in fashion school when she launched her swimwear line, called Free Bella, two years ago.
In Italian, Free Bella means "free beauty," which is the inspiration behind the label. Lagudi wanted a free-and-easy feel to her swimwear, so she went with seamless creations that had no hardware.
She also wanted to be free from polluting the environment, deciding that all her fabrics would be sustainable and her collection would be made in Los Angeles.
"I guess I have always loved nature and especially the ocean, and I couldn't think of a more appropriate product category when promoting sustainability," said the Australian native, who graduated from the Fashion Institute of Design & Merchandising in Los Angeles after studying product design and business management. "We are using recycled polyester that comes from plastic PET bottles. Traditionally, polyester is made from petroleum. It's been an interesting discovery to find these eco materials that are available to us."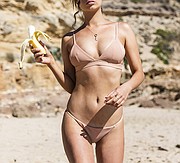 The recycled nylon that Lagudi uses comes from Econyl, which turns used fishermen's nets and other recyclables into nylon yarn. Her collection for Spring/Summer 2018 also will be using dead-stock fabric as well.
At first, Lagudi was making her suits with a contractor in Huntington Beach, Calif., but that turned out to be a time-consuming drive, so she found other sources in downtown Los Angeles, blocks from her old school. "Huntington Beach was a little too far away, and I wanted to be down at the factory all the time and have full control," she said.
The idea of seamless swimwear was trendy when Lagudi first started her line, but as time has gone on, she discovered that some bodies need more support than seamless can offer. "Seamless can be beautiful, but in some areas and body types, it doesn't provide the functional fit some women need," she observed.
So her one-piece and two-piece silhouettes incorporate more construction. For the upcoming season, she is revealing a higher leg silhouette that was popular in the 1980s as well as some high-waisted bottoms.
For her triangle tops, she is also using metal hardware that has been recycled.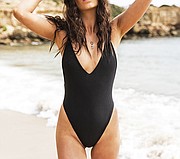 One of Lagudi's original goals was to make an affordable swimsuit that wouldn't break the bank. So she retailed her swimsuits at $27 to $43 per piece and found that those prices didn't cover all her costs. "I found the lower price points gave us a lot of exposure and people were buying from us, but we weren't making money," she said.
Now Lagudi is selling two-piece silhouettes for $100 and one-piece suits for $72 to $100. Everything is direct to consumer.
She is also incorporating more prints in her line this coming season, with a cheetah print called the Bengal print, a custom-made tropical print and a deep-teal print contrasted with white.
New prices and new designs are all part of the learning process of a young designer. "I really have learned that communication is everything and you have to be very meticulous," she said. "There have definitely been surprises along the way."
For more information, visit www.freebella.com or contact Lagudi at francesca@freebella.com.